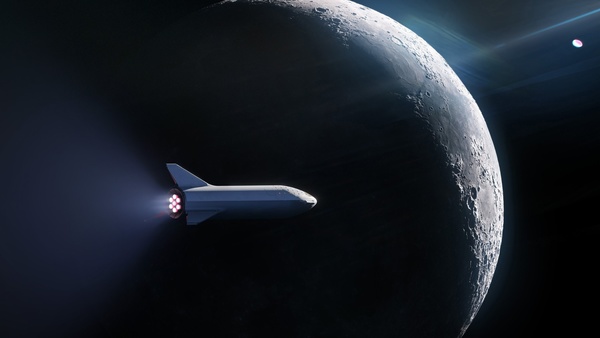 SpaceX has signed up its first private passenger which it will fly around the Moon using its upcoming BFR rocket.
Previously the rocket-maker had planned to send two private tourists around the Moon this year in a human-rated Dragon capsule using its new Falcon Heavy rocket. However, SpaceX has since dropped plans for crewed missions using the Falcon Heavy as it shifts its focus to the BFR. It can ferry astronauts to the International Space Station using the Falcon 9 Block V which is currently seeking human rating.
On Monday, SpaceX will announce details of the BFR's first private passenger Moon mission and seems set to identify who is flying "and why". It will be the furthest humans have traveled from Earth since the 1970s if the mission goes ahead.
SpaceX' BFR, or Big Falcon Rocket, is am ambitious super-heavy-lift rocket/spaceship system that SpaceX hopes to replace the Falcon 9 and Falcon Heavy with. It can carry payloads large enough to open up Moon missions, and then Mars mission. It is also intended to be fully reusable. At the moment, only the Falcon 9 booster and the Dragon cargo capsule are routinely reused by SpaceX.
According to SpaceX CEO, Elon Musk, the spaceship part of BFR could be ready for short hopper flights by next year. Test flights of the system will be a few years off.
SpaceX has signed the world's first private passenger to fly around the Moon aboard our BFR launch vehicle--an important step toward enabling access for everyday people who dream of traveling to space. Find out who's flying and why on Monday, September 17. pic.twitter.com/64z4rygYhk

-- SpaceX (@SpaceX) September 14, 2018