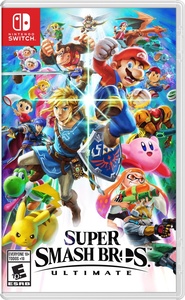 Figures from the NPD Group are being touted by Nintendo as evidence that the Switch is the fastest selling video games console of the current generation.
Launched in March 2017, the Nintendo Switch console has amassed 8.7 million unit sales. Nintendo notes that this is faster than competitors (namely PS4, Xbox One) at the same stage of their lifecycle. Nintendo is also the overall top-selling U.S. software publisher so far for 2018, according to NPD data through November.

Of course, there are millions more PS4s and Xbox One consoles in the wild, having launched in the fourth quarter of 2013. However, the numbers for the Nintendo Switch show that the Japanese gamemaker has moved beyond its Wii U falter and is going strong.

Nintendo's software performance should receive an additional boost from the December release of the Super Smash Bros. Ultimate game, which has become not only the fastest-selling Nintendo Switch game of all time but also the fastest-selling game in the Super Smash Bros. series, with U.S. sales of over 3 million units in just 11 days.