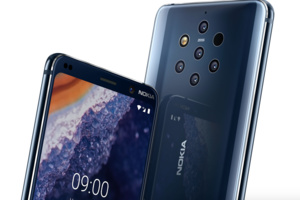 HMD Global showed off a new Nokia smartphone that can snap photos with up to 240-megapixel resolution using five separate lenses.
A new contender in the current smartphone camera battle has come forth. The Nokia 9 Pureview was shown off at the Mobile World Congress in Barcelona over the weekend. The key selling feature of this smartphone is what it can do with its five cameras on the rear of the device.

Three are monochromatic (they only record light in shades of grey) and two are conventional color lenses. All five can capture 12-megapixel images, but they work together to produce single multilayer images up to 240 megapixels in detail. An infrared sensor compliments the five cameras and allows the device to perceive and accurately capture depth like never before on a phone.

Depending on the light settings, the cameras capture detail up to four times in quick succession, and then the device's software picks one of the color shots as the primary image. The other stills are then used to add even more detail to the image, producing stunningly detailed shots that can even retain details otherwise lost (such as objects in shadows etc.)



The dynamic range this permits (12.4 stops) is higher than any other smartphone on the market, touts HMD Global, which licenses the Nokia brand. Using depth mode, Nokia 9 PureView can identify over 1,200 layers to build a detailed depth map, allowing you to re-focus your shots later in Google Photos.

Beyond the camera innovations, the Nokia 9 Pureview is driven by a Snapdragon 845 and packs 6GB of RAM. For storing your photos, there is 128GB internal storage available. For viewing them, the device features a large 5.99-inch OLED display with 2K resolution with an 18:9 aspect ratio. There is also a 20-megapixel front-camera. It runs Android 9 Pie.

It will become available starting in March, priced at $699 in the United States, and €599 in Europe. Here is a video showing off the device.