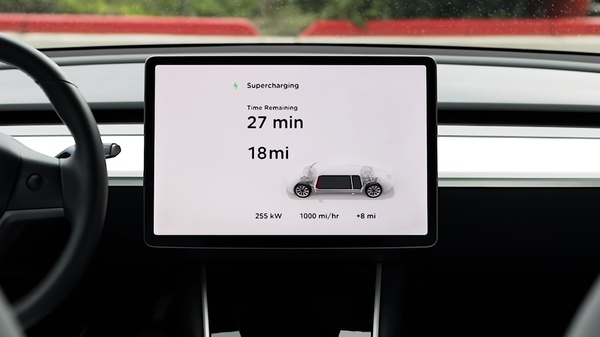 Tesla has introduced V3 Supercharging, which will dramatically speed up car charging at its supercharger stations.
With the V3 Supercharging infrastructure, a Model 3 Long Range operating at peak efficiency can recover up to 75 miles of charge in 5 minutes and charge at rates of up to 1,000 miles per hour. The goal is to reduce the amount of time that commuters spend at the charging stations by an average of 50 percent.
A new 1MW power cabinet supports peak rates of up to 250kW per car, so no more splitting power with a vehicle in the stall charging next to yours. Another innovative feature is the On-Route Battery Warmup. When a Tesla driver is navigating to a Supercharger station, the car will automatically warm the battery to an optimal temperature for charging, which can reduce average charging times by 25 percent.
Tesla has more than 12,000 Superchargers across North America, Europe, and Asia, covering more than 99 percent of the U.S. population. By the end of the year, Tesla aims to be able to say the same for Europe, while it already covers 90 percent of the population in China.
More information on v3 Supercharging can be read at
Tesla.com
.