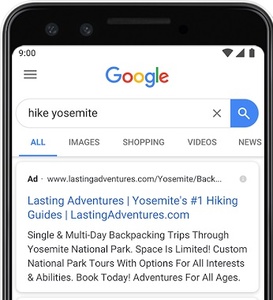 Google has made a couple of changes to its Search results pages that will deliver some additional information for the user.
When you search with Google, typically you get a ranked set of Search results in plain text (putting aside ads, image results etc.). While you can see part of the URL under the headline and snippet in the search result, Google wanted to make it clearer where the Search result is actually coming from.
For that purpose, Google has added the website logo and name to the top of each Search result card. In the case of ads, Google also now show a bold ad label and the URL.
Additionally, Google will also add actions to the Search result page, such as playing a podcast or purchasing a movie ticket. At the moment, the Search design changes are only rolling out for mobile devices so keep an eye out for them.