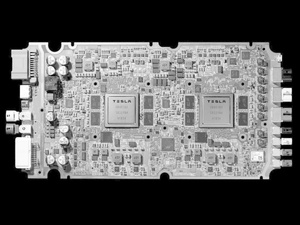 Tesla took a page out of Apple's playbook a while ago and started developing their own chips for their cars. Previously the self-driving chips were provided by Nvidia, but Elon Musk realized they could do way better in-house.
The chip that was unveiled this April is suggested to be many times faster than the previous one, and in some tasks it is said to outperform old Nvidia's offering 21 to 1.
According to Musk the new chip finally also is powerful enough that it can provide a fully autonomous driving. Unfortunately that is not yet possible due to software among other things, like regulatory action.
However, the hardware prowess should be there, and this means that Tesla will soon be able to replace the older Tesla models with the new chip. According to Musk this will begin in late Q4 this year for the cars with previous generation HW2, or Autopilot Hardware 2.0.
The new generation, previously known as HW3, Musk calls simply FSD for Full Self-Driving.
If you've bought a Tesla with the Full Self-Driving option, costing some $6000, you'll get the new chip with installation for free. Even if you didn't opt in for full self-driving, it is still possible to get the features, however you'll obviously have to pay for it and possibly have to wait quite a bit longer.
End of Q4, most likely

-- Elon Musk (@elonmusk) July 8, 2019