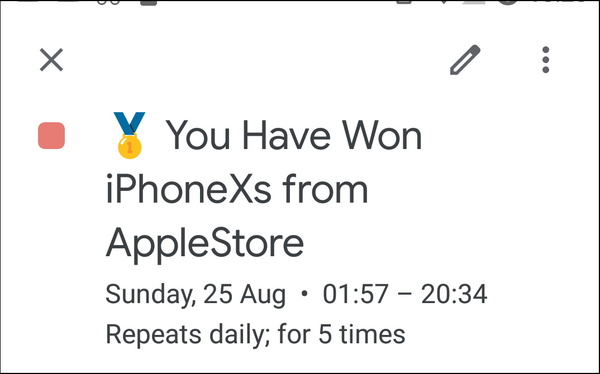 Are you getting spammed by Google Calendar? Google is aware of the widespread issue and is working on a fix.
Spammers and malicious actors are exploiting the default settings for Google Calendar to direct spam and potentially dangerous stuff. If you suddenly started receiving Event reminders from Google that inform you about an iPhone you won (see accompanied image for example), or some other suspicious message, it is likely you have been hit by this annoyance too. The event reminders typically also show malicious links that could be dangerous to open.
In a post to the Google Support Forums, employee Lesley Pace addressed the issue yesterday.
"We're aware of the spam occurring in Calendar and are working diligently to resolve this issue. We'll post updates to this thread as they become available,"
Pace writes
. A link is also added if you require information on
how to remove and to report spam
.
The issue arises from the default settings of Google Calendar when it comes to automatically adding invitations and providing notifications by alert. By default, Events from GMail are also added to the Calendar which you can turn off in the Google Calendar settings.
via:
Engadget