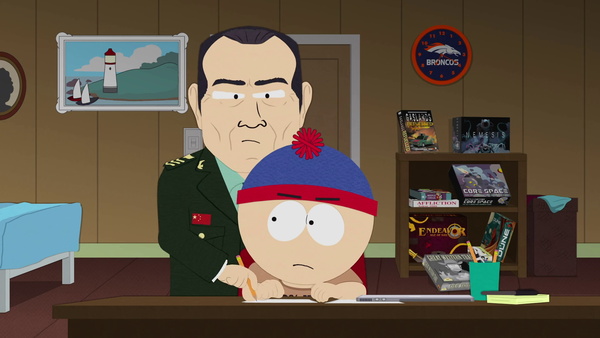 The creators of South Park have 'apologized' to China after the show is reportedly banned in the country and it's exactly what you expect.
It has been reported that South Park is banned on the Chinese Internet, after last week's episode "Band in China". The episode follows dimwit Randy Marsh - father of Stan, a geologist, the voice of pop sensation Lorde, and the entrepreneur behind Tegridy Weed - on a journey to China to find more customers for his product. His visit instead gets Randy sent to a work camp where he has to speak praise of the communist party.
At the same time, Randy's son Stan is trying to film a biopic for his several-weeks-old death metal band Crimson Dawn, but finds out that he has to censor topics ranging from Winnie the Pooh to the Dalai Lama in order to appease Chinese censors and make money in the country.
The episode even shows a Chinese censor in military uniform erasing things that Stan writes down, or erasing things he types on his laptop.
Apparently, the Chinese authorities didn't see the humor in the episode and reports are that South Park is now banned on the Chinese Internet. Matt Stone and Trey Parker responded to the news in a fashion we've come to expect over the years from the minds behind South Park. While it clearly makes fun of the Chinese reaction to the episode, it also takes aim at the NBA.
Houston Rockets general manager Daryl Morey tweeted support for Hong Kong protesters on Friday, in a tweet that has since disappeared. Today, the NBA apologized to "friends and fans" in China who were offended by Morey's tweet. So how did Matt and Trey seek to mend South Park's relationship with China?
"Official apology to China from Trey Parker and Matt Stone.

'Like the NBA, we welcome the Chinese censors into our homes and into our hearts. We too love money more than freedom and democracy. Xi doesn't look just like Winnie the Pooh at all. Tune into our 300th episode this Wednesday at 10! Long live the Great Communist Party of China! May this autumn's sorghum harvest be bountiful! We good now China?'"
Can you feel the sincerity evident in every word?