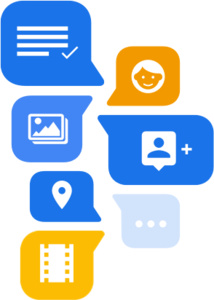 Google has today started the rollout for its Rich Communication Service messaging feature on Android. RCS allows rich messaging on Android's default Messages app, including pictures and read receipts among other things, not unlike Apple's iMessage.
The company has been trying to work with carriers and partners to bring the feature to Android. However, now Google has decided to bypass some of the slow-moving machinery to implement it themselves.
The feature should come to all handsets in the U.S. shortly. The rollout has already began and you might be seeing a new popup window in Messages to suggest about the new chat features.
RCH uses Wi-Fi or cellular data connection to send rich messages in the SMS app. It allows sharing of higher quality images, including those precious meme gifs, as well as videos, and has support for read receipts and shows when the recipient is writing.
If you are among the first to find yourself with the new feature, you can enable it following the instructions of the popup window.
Currently the RCS is only available in France, Mexico, the U.S., and the U.K., but more countries are surely soon to join. Google said that U.S. customers should receive the feature broadly by the end of the year.