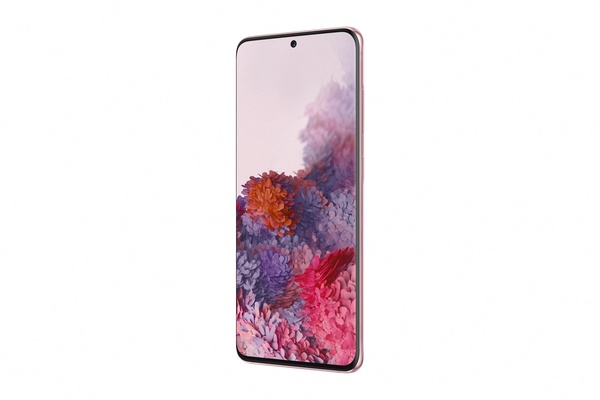 Samsung has unveiled three new handsets in its Galaxy S- line up which support 5G wireless connectivity, and pack powerful camera features.
It unveiled the three new 5G-capable Galaxy S devices in San Francisco today, while rival Apple is still to release a 5G-capable iPhone and Chinese rival Huawei suffers from geopolitical woes. All three new handsets - Galaxy S20, Galaxy S20+, and Galaxy S20 Ultra - feature considerable camera upgrades for superior image and video capturing. It should be noted that only the Galaxy S20+ and Galaxy S20 Ultra support sub-6 and mmWave 5G technology.
Each has three camera lens on the rear (telephoto, ultra-wide angle, and wide-angle), though vary based on which S20 device it is. The standard Galaxy S20 has a 64MP telephoto lens, 12MP wide and 12MP ultrawide, which is the same arrangement as the Galaxy S20+. However, the S20+ model supplements the three lens with a depth sensor (DepthVision).
The high-end Galaxy S20 Ultra also features the depth sensor but its telephoto lens drops to 48MP, while it packs a significant 108MP (f / 1.8) wide-angle lens. New in the S20 line-up is Space Zoom, which combines the optical zoom features with artificial intelligence to provide up to 30x zoom on the S20 and S20+, and a staggering 100x zoom with the Galaxy S20 Ultra.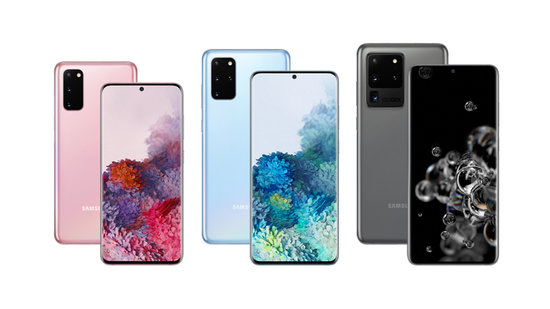 Another special capability available due to the upgraded cameras is the ability to capture video in 8K resolution, which can be easily streamed to Samsung's 8K OLED televisions or uploaded to YouTube. All three models support a 120 Hz refresh rate (at 1080p resolution), and vary in size at 6.20-inch for the standard model, 6.7-inch for the S20+, and 6.9-inch for the S20 Ultra. At native Quad HD+ resolution (2560x1440) the refresh rate defaults to 60 Hz.
More features include improved integration of Google's Duo video-calling service and a Music Share tool to allow multiple people to stream music to the same bluetooth speaker.
Under the hood, the S20 models are powered by either a Qualcomm Snapdragon 865 SoC or an equivalent in-house Exynos chip depending on where it's sold. They all also pack 12 GB of RAM, and 128 GB of internal storage. The standard S20 houses a 4,000mAh battery, while the S20+ boosts to 4,500mAh, and the S20 Ultra shows off with a reported 5,000mAh battery.
Pre-orders will begin on February 21 and arrivals starting on March 6, with the S20 starting at $999.99, and the S20+ starting at $1,199.99.
They are available in:
Galaxy S20: Cosmic Grey, Cloud Blue, Cloud Pink
Galaxy S20+: Cosmic Grey, Cloud Blue, Cosmic Black
Galaxy S20 Ultra: Cosmic Grey, Cosmic Black