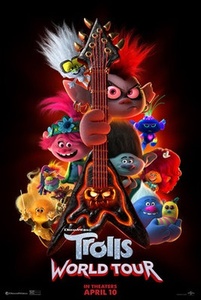 NBCUniversal announced that Universal Pictures will make movies available for digital rental on the same day as a theatrical release.
The news comes as coronavirus fears have shut theaters in countries around the world. The Hunt, The Invisible Man and Emma, will be available on a wide variety of the most popular on-demand services for a 48-hour rental period at a suggested retail price of $19.99 in the U.S., from this Friday, March 20.

DreamWorks Animation's Trolls World Tour has its opening on April 10 and will be available for digital rental the same day.

"Universal Pictures has a broad and diverse range of movies with 2020 being no exception. Rather than delaying these films or releasing them into a challenged distribution landscape, we wanted to provide an option for people to view these titles in the home that is both accessible and affordable," said Jeff Shell, CEO, NBCUniversal

"We hope and believe that people will still go to the movies in theaters where available, but we understand that for people in different areas of the world that is increasingly becoming less possible."



Movie studios have considered releasing movies online during their theatrical run for years, only to be pushed back by theater chains who see it as an obvious threat to their revenues.