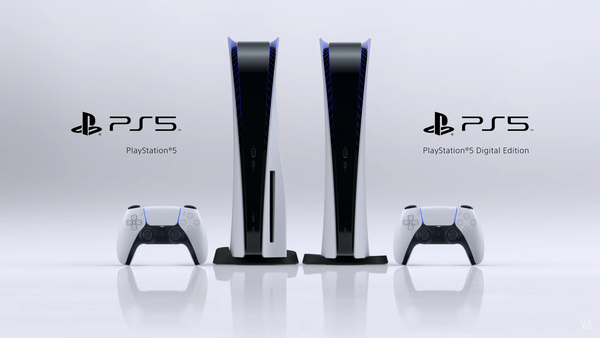 PS5 Showcase provides PS5 console launch date and price, along with information on accessories and launch day games.
We are getting close to the next major console battle. This time, Microsoft's Xbox Series X goes up against rival Sony's PlayStation 5 for your cash. Where can you get a PS5 and when? How much will it cost? What accessories will be available at launch and what games will be available? How much will those cost?
Here's how it breaks down.
PlayStation 5 hardware launch details
There are two options for your PlayStation 5 purchase this fall. You can buy a PS5 with an Ultra HD Blu-ray disc drive or you can purchase a PS5 Digital Edition at a lower cost. The lower cost results from the lack of a Blu-ray drive, if you hadn't already guessed, meaning that the only way to acquire games for this version is digitally.
Other than the Blu-ray drive, there is no other significant hardware difference between the two choices: they both the same x86-64-AMD Ryzen Zen 2 CPU and AMD Radeon RDNA 2-based graphics engine, support 4K graphics with ray-tracing, and both pack ultra-high-speed SSD with integrated I/O for speedy loading times.
Both consoles will be available in the U.S., Japan, Canada, Mexico, Australia, New Zealand and South Korea from November 12, and will launch a week later on November 19 in Europe, Middle East, South America, Asia and South Africa. Pre-orders are available now from select retailers.
PS5 with Ultra HD Blu-ray will sell for US$499.99 (or $629 CAD, €499.99, £449.99) while the cheaper PS5 Digital Edition costs US$399.99 (or $499 CAD, €399.99, £359.99).
What about accessories? In November, there are multiple accessories for PS5 that will be available for stand-alone purchase, including the DualSense Wireless Controller, DualSense Charging Station, PULSE 3D wireless headset, HD Camera and Media Remote.
Games who want another controller will have to fork over $69.99, while the charging station (which charges two controllers simultaneously) costs $29.99.
A PULSE 3D wireless headset with 3D audio support and dual-noise canceling mics will retail for $99.99, and the HD camera which features dual 1080p lenses will go for $59.99. A media remote to control Blu-ray, DVD, or streaming service content will sell for $29.99.
PS5 games availability and pricing
As previously reported, some PS5 (and Xbox Series X) games will come with a new $69.99 standard price tag, tacking on $10 to the previous industry price point for a new title. Sony has confirmed some SIE titles that will be available at launch have the new price point.
It breaks down as follows:
Astro's Playroom (Japan Studio) – pre-installed on PS5
Demon's Souls (Bluepoint Games / Japan Studio) – US$69.99/CAD$89.99/¥7,900/€79.99 (RRP)
Destruction All Stars (Lucid Games / XDEV) – US$69.99/CAD$89.99/¥7,900/€79.99 (RRP)
Marvel's Spider-Man: Miles Morales (Insomniac Games) – US$49.99/CAD$64.99/¥5,900/€59.99 (RRP)
Marvel's Spider-Man: Miles Morales Ultimate Edition (Insomniac Games) – US$69.99/CAD$89.99/¥7,900/€79.99 (RRP)
Sackboy A Big Adventure (Sumo Digital / XDEV) – US$59.99/CAD$79.99/¥6,900/€69.99 (RRP)
Devil May Cry 5 Special Edition (Capcom) - digital only on launch day - US$39.99
Epic Games' Fortnite will be free-to-play on the PlayStation 5 at launch too.
That's it for now.