Comprehensive AfterDawn usage guide: Part 1
In the following three-part guide, users will learn the basics and more advanced aspects of the AfterDawn website including how to edit your post, find what you are looking for, forum etiquette and how to download the software of your choice.

In Part 1 of this guide, you will learn how to create an AfterDawn.com account, activate your account, editing your personal settings, setting up an AfterDawn profile, example forum etiquette, and the forum rules.
Creating an AfterDawn and Blasteroids account
Ok, so to begin this journey we will first need to learn how to create an
Afterdawn.com
and
Blasteroids.com
account.
If you are reading this guide then you clearly understand how to get to the AfterDawn website, so keep this guide open and open up a new browser tab or window and head back to the Afterdawn homepage for the the next few steps.
Registering

On the top right of the homepage you will see a small black box that will say
"Username",
"Password", "Not registered yet? Register here." or "Lost your password? Click here."
You are going to want to click on
"Not registered yet? Register here."
and proceed to the next page of registration.
You will now have a few boxes to fill in, the first being the username you want for the site. Be careful in picking this name as you cannot change it after it has been submitted. Also be reminded that there is a maximum of
10 characters
and no special characters such as "!, @, $" can be used. This includes spaces as well.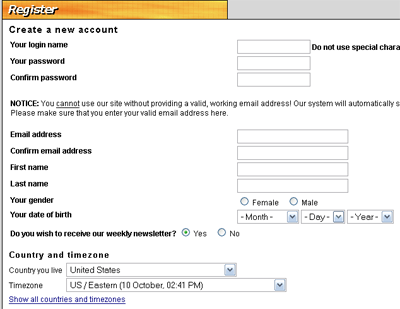 Next, you are asked to pick a
password
. Although there are no requirements, it is suggested to have a password of at least 7 characters including both numbers and letters.
After selecting your password, confirm it by typing it in again in the box right underneath.
Now we move onto the
email address
section. This is the most important part of registration, so be careful when filling the boxes out. Enter a valid email address (it must be valid because you will need to activate the account using the email provided) and then confirm it by copying and pasting or re-typing it in the box below.
In the next few boxes you can choose to provide your real name, date of birth and gender.
By default, you will receive the
AfterDawn weekly newsletter
which provides updates for anything pertaining to the site as well as give you news and software updates. You can however, choose to not have this email sent to you by selecting
No
in the
Do you wish to receive our weekly newsletter?
section.
Finally, (we will get into the "Your signature field" section later) we move into the
Country and timezone
section. The first drop down menu will allow you to pick the country you are visiting the site from and we appreciate if you give an honest answer as it helps us know where our visitors are coming from and it will help you to easier select your timezone.
Next, select your
Timezone
from the drop down menu. This should be pretty straightforward, if you are on the east coast of the US then you will want to select "US/Eastern" and make sure the time is right.
Now, make sure everything you've provided is correct and hit
JOIN!
on the bottom of the page.
Activating your account
Now lets open up a new browser tab or window and go to the email address you provided.
Note: I used a Gmail account so the screen shots may differ somewhat from yours.
Open up the email and you should see something very similar to the screen shot at right.
Now, you will have two options. You can either click on the hyperlink provided or visit
http://login.afterdawn.com/activate_account.cfm
and use the activation code provided.
Also included in the email will be your username and password. If you are afraid you will forget either one, then save the email, otherwise after you have activated the account you can delete the email.
Now that you are activated you should get a
Thank You!
screen that will tell you you are free to login now. Press on the
If you wish to login, please click here
and log in for the first time. :)