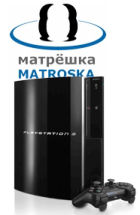 This article walks you through taking an MKV file and converting it to AVCHD for playback on a PlayStation 3 (PS3) console or a Blu-ray Disc stand-alone player. The method uses tsMuxer for the process and ImgBurn for burning.

Introduction & Requirements
TsMuxer
- Download TsMuxer from the link and extract all the files to a folder using
WinRAR
.
ImgBurn
- Download ImgBurn in order to burn the resulting disc.
The
PlayStation 3 (PS3)
console does not support the
MKV
/
Matroska
container, but it will support much of the audio and video that can be stored in the MKV container. This guide assumes that the video and audio of your MKV file are
H.264
/
AVC
with either
AC3
or
DTS
audio.
Open TsMuxerGUI.exe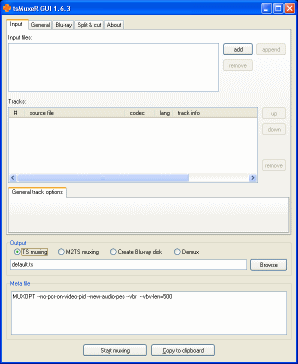 After you have extracted all the files from
WinRAR
to a folder, run the
TsMuxerGUI.exe
file. This program is not very complicated at all but what it achieves is ground breaking for PS3 & Blu-ray video. This process used to take quite a while, but TsMuxer automates nearly the entire process now.
Anyway, let's get on with it. Make sure you are in the
Input
tab. Look at the blank Input files field, click the
Add
button beside this.
Open MKV file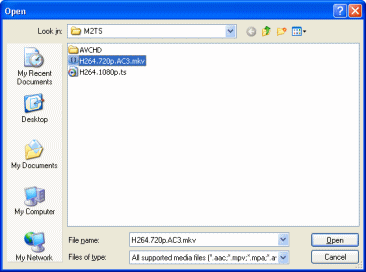 Browse through your Hard Disk Drive for the folder that contains the
MKV
file that you want to play on the
PlayStation 3 (PS3)
console. Double-click it when you find it.
TsMuxer will now take a moment to analyze the file before it shows you any streams.
Check Stream Information

If the MKV file was opened successfully, you should now be able to see the type of streams that you have in your MKV file. In mine, I have H.264 / AVC video (1280 x 720) running at 23.976fps (click to enlarge picture) and AC3 5.1 audio, very nice.
However, there is a problem. Look closely at the track info for my video. It says..
Profile: High@5.1
This is not good because the PS3 only supports up to
Level 4.1
, not 5.1. However, the fix for this is easy and built right into the tsMuxer program.
Warning
: Non-standard resolutions can cause green bars on playback with some players. If you have a non-standard resolution, you may be stuck here, unless you have a PS3, in which case you can
read this guide on creating an M2TS file which should play fine
, or this guide to using
MKV2VOB
.
Change AVC video to Level 4.1

Select the
AVC
stream that is set to Level 5.1 (if you have 4.1 or lower, skip this step) and you will see the options before the
Tracks
list changes (check my picture, click to enlarge).
Beside the
Change Level
option is a box. Click it and a green tick will appear. Now click the drop-down box and select
4.1
from the list. This should ensure that the video will play correctly.
Insert Chapter Points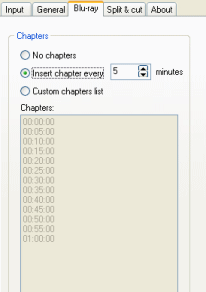 Warning
: Chapters are not guaranteed to work depending on your hardware. Click the
Blu-ray
tab and the first thing noticeable is that you can make some chapter options. You can either opt to have
No Chapters
, or tsMuxer can automatically add chapters every few minutes for you.
If you want more control you can tick
Custom Chapter List
and create your own list. The automatic options are much easier however, and finding the extra point you want a chapter at would be tricky anyway.
When that is done, go back to the
Input
tab.
Set output to Blu-ray

Under the input tab again, you must now set the output to Blu-ray Disc. This will create a
CERTIFICATE
and
BDMV
folder inside your output directory, exactly what you need.
Set Output Folder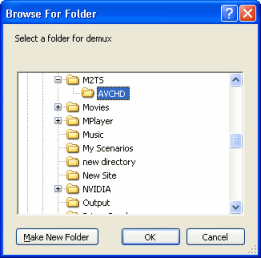 Now you need to set a folder where you want your CERTFICATE and BDMV folders to be created. Click the
Browse
button beside the
Output
field and a folder browser will appear. Navigate through your hard drive until you reach the folder you want to save your AVCHD into.
The Process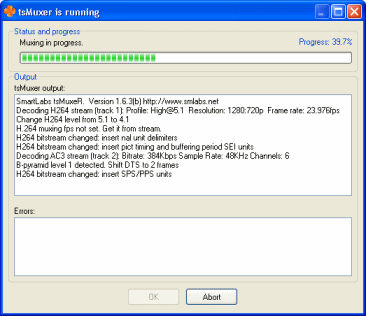 How long this process will take depends on the length of the original
MKV
file, and of course, it's file size. Hope that there will be no errors!
The next thing you need to do is burn the compilation. We will do that with
ImgBurn
next, or if you would prefer to burn with Nero Burning ROM,
click here
.
Please go to the Next Page

On the next page, we take a look at ImgBurn for the first time and show you how to burn your AVCHD files to a DVD disc for playback on a PlayStation 3 (PS3) console or a Blu-ray player.