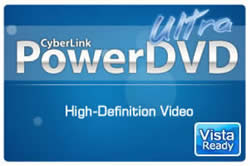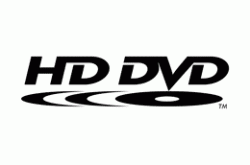 In this guide we will teach you how to enable HD DVD playback on the very popular retail program Cyberlink PowerDVD 8 Ultra. After the demise of HD DVD in February Cyberlink decided to remove HD DVD playback support from Power DVD 8 Ultra, while it still remains a feature of Power DVD 7 Ultra. Those looking to upgrade and still want to play their HD DVD collections should definitely take a look at this guide before upgrading. Please note this guide will only work with PowerDVD Ultra 8 and other versions will not work as they wouldn't have Blu-ray or HD DVD playback to begin with.
Requirements
For this guide there are only a few requirements necessary and I will list them here alongside any other notes.
-
Cyberlink PowerDVD 8
- We have a free 14 day trial available for this shareware program here at Afterdawn, but for this guide you will need
PowerDVD 8 Ultra
which can be purchased from Cyberlink. Of course, if you are at this guide you most likely already have the program or are very interested in purchasing it.
-
PowerDVD Ultra HD DVD files
- Here are the very important files needed to enable HD DVD playback for your program.
-
WinRAR
- WinRAR is a program used to extract compressed folders that have been compressed and packed into a
.RAR file
. The HD DVD files are packed into a .rar file so WinRAR is necessary. For a good look into what WinRAR can do please read our
WinRAR guide here.
- An HD DVD drive and
HD DVD
movie you want to watch.
Getting Started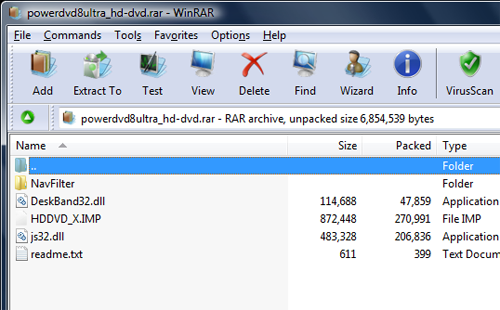 Ok what we will do first is to extract all the files in
HD DVD files folder
into its own new folder using WinRAR. I've opened the file in WinRAR to show you what files should be inside. You can do the same but its not necessary. Now to extract it to its own folder, right click on the rared folder, navigate down to
Extract to powerdvd8ultra_hddvd\
and hit it. WinRAR will then extract all the files in the pack to a folder in the same directory where there .RAR pack is.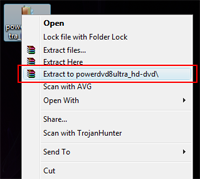 Moving the files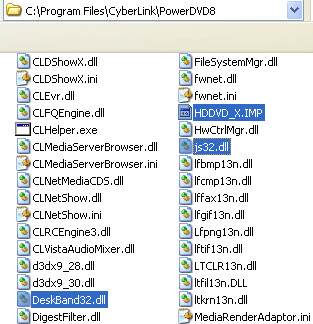 Now it is time locate where your PowerDVD 8 Ultra folder is and by default it will be in
C:\Program Files\CyberLink\PowerDVD8
unless you of course saved it to a different directory when you installed the program. The upcoming step is very important so take care to follow the instructions carefully.
In the new folder you extracted there should be 3 individual files (the readme does not count) and then a folder named
NavFilter
. Inside that folder will be 3 more individual files (leave the
AX
file for now). Leave the NavFilter folder alone for now, and highlight the 3 individual files not in the folder. You will now want to copy them and paste them to the main PowerDVD folder. Next, go back to your extracted folder and highlight the files inside the
NavFilter
folder (not the AX file yet). Open the corresponding folder in the PowerDVD folder and copy and paste those files into the program's folder. Your official program folder should now have all the 6 new files.
Adding Registry entry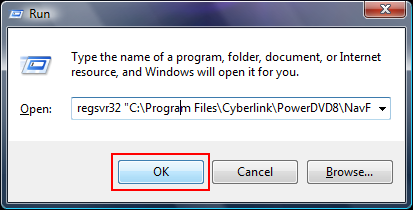 The last step of this guide is to register the
AX
file that was in the
NavFilter
folder but that we didn't copy over during the last step.
Hit your Windows Key + R on the keyboard and Windows
Run
command box should pop up. If that doesnt work, for Windows XP hit
Start
then
Run
. In Vista, under
Search Start
type
Run
.
In the box that pops up, please add the following line:
(Note: the quotes are necessary so do not remove them)
regsvr32 "C:\Program Files\Cyberlink\PowerDVD8\NavFilter\HDDVDNav.ax"
Note: Of course if your PowerDVD folder is elsewhere then replace that part of the entry.
Press
OK
and if the command is successful you will get a prompt window saying it succeeded.

All that is left now is to check that an HD DVD movie indeed works. Pop one in and if it works, well you will know if it does :-)
Finishing Up
Hopefully this guide will helped you to learn the tools to enabling
HD DVD
playback for
Cyberlink PowerDVD 8
. If you have any questions however, please visit our
Discussion Forums
. It may also suit you to visit the HD DVD section of our
Hardware Section
. That section is available here:
HD DVD players.
Version History
v1.0
-- First version by
DVDBack23
-- 05/12/2008