This guide examines how to play content that you have downloaded in a RAR archive. Since the RAR file format stores compressed files in archives with a file extension of .RAR, the content could be almost anything. However, since you are seeking to playing the RAR file(s) you have downloaded, this article assumes that we are dealing with multimedia content.

Introduction & Requirements
Dziobas Rar Player Portable
--> This software allows you to play video content directly from a RAR archive in many cases and can be very useful for a quick fix.
WinRAR
--> This item should be installed on every machine. It is a utility to create and extract from RAR archives and many other compression formats. Download and install this tool.
Firstly we will look at playing video content directly from a .RAR archive (if you think you have video). After that we will cover extracting from .RAR archives and take a quick look at some of the files that you may encounter and how to play them.
Play Video Directly from RAR with Dziobas Rar Player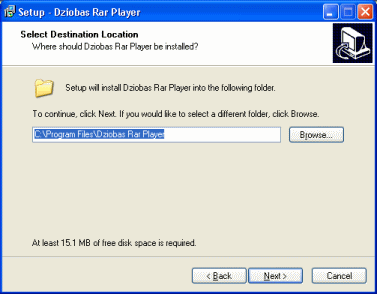 Download
Dziobas Rar Player Portable
and run the installer.
Keep clicking
Next
until you get to the end of the Installer. By default, a Start Menu folder is created for the player. Go to your
Start Menu --> All Programs --> Dziobas Rar Player
.
Specifically, this player can play content directly from RAR files that has been compressed using the
"Store"
mode during creation. Effectively this means it is uncompressed, but that is quite common. Even if the content in your RAR archive is compressed, it has an option to
Stream from unrar
.
Dziobas Rar Player first look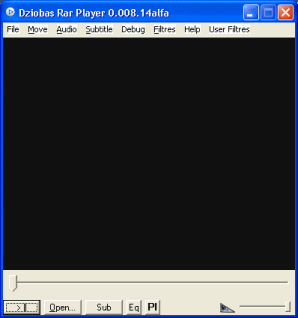 Your
Dziobas Rar Player Portable
should look like the image provided with this text when it is first run, just your basic multimedia player. This player does not only support RAR files directly, but many other formats including MPEG, MKV, AVI, EMVB, OGG etc.
Now we will try to Open a RAR file. Click
File --> Open RAR (rewind)
and a file browser window should now pop-up.
Open RAR file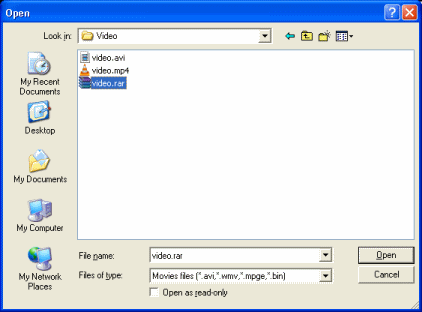 Browser through your Hard Disk Drive until you find the RAR file you want to play. Select the file as shown and click
Open
. There are two things that could happen here now.
The first thing that may happen is that the video stored in the RAR file may begin playing immediately. If this happens then this is what you set out to do right? However, I suggest you read on to see what happens with compressed archives and learn how to extract from RAR files properly.
The second thing that may happen is that you get a
"Bad Compression"
message. If this is the case, then try to open the file again except this time click
File --> Stream from unrar (no rewind)
. You will see a command prompt window open and the video should now load in a new window, but you will be unable to seek it. If you are asked for a password then try leaving the password blank.
If this is not good enough then read on and learn how to open RAR files and extract the compressed contents within. Then you can look at the file extensions of the stored content and learn how to play it from the list of multimedia files I have on this article.
Using WinRAR - Open RAR file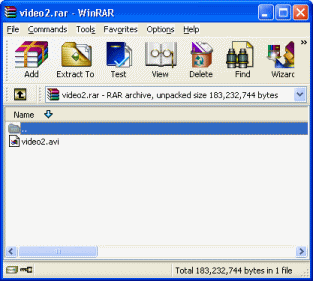 Download and installed the
WinRAR
extraction utility from AfterDawn. Once it is installed, files with a .RAR extension will automatically be opened with WinRAR instead from then on. In the picture beside this text (click to enlarge), you can see my video2.rar file has been opened in WinRAR, and stored inside is a single
video2.avi
file. The .AVI extension tells me that it is a video file, but we will take a closer look at common file types later.
Open your RAR file with WinRAR and let's extract the contents from it to our Hard Disk Drive where it is free from the compressed archive and can be played properly with a variety of software.
Using WinRAR - Extract To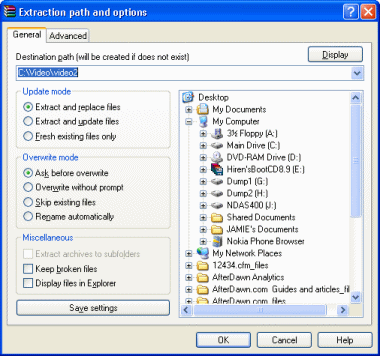 Select the file that you want to extract from the .RAR file (in my case, video2.avi) by clicking on it in WinRAR. Now click the big Extract To button and a new window should pop-up that looks almost exactly like the picture beside this text (click to enlarge).
The first thing you need to make note of is the
Destination Path
. In almost all cases this path will be a new folder inside the folder that contains your RAR file, which should be fine.
Update Mode
: Select
Extract and Replace files
since you are extracting to a new folder and it is highly unlikely you will over-write anything.
Overwrite Move
: Make sure to set this to
Ask before overwrite
on the off chance that there is a file there with the same filename.
Miscellaneous
: One good option here that you DON'T need to select just yet is
Keep broken files
. However, if you get an error trying to extract the file and as a result, no file is extracted, then repeat the process but select this option and it will allow you to keep the broken file on your Hard Drive anyway. Often times the error is because of Archive corruption but the file you extract works just fine. Remember though that you do not need to select this option unless you need to.
When you are done, click
OK
.
WinRAR - Extracting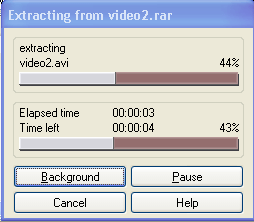 The WinRAR utility will now begin extracting the file you selected from the archive. The amount of time this will take depends entirely on the compression method used in the creation of the RAR file and the size of the file itself while also your hardware (slow or old hard drive) will have an effect here.
Now that you have extracted your file, you still need to learn how to play it. Below is a list of common file-types and links that will help you to get them playing.
Common files in RAR archives --> Videos
Here is a list of some of the common file types you will extract from RAR files that will contain video/audio content.
Common Files in RAR archives - Audio
Here are some of the most common audio file types that you will find stored in RAR files.
MP3 --> MP3 files are the most common type of audio files on the Internet by far. Windows Media Player and most other players can play MP3.
FLAC --> FLAC, or Free Lossless Audio Codec files are very common on the Internet and noticeably larger and higher quality than their MP3 or MPC etc. lossy counterparts.
See: How to play FLAC files.
OGG --> OGG files are also very common on the Internet and technically store either Vorbis (lossy like MP3), Theora (lossless like FLAC) or Speex audio content.
See: How to play OGG files.
MPC --> MPC or Musepack audio files are lossy compression music files that are fairly common on the Internet and can easily be supported by a variety of players.
See: How to play MPC files.
AC3 --> AC3 audio is very common but not often found on its own. However, it is not unheard of to download an AC3 stream separate to video.
See: How to play AC3 files.
AAC --> AAC, or Advanced Audio Coding files are very common nowadays as they are used with many legitimate stores like iTunes. AAC files can be played with a lot of players with a little bit of work.
See: How to play AAC files.
APE --> APE, or Monkey's Audio, is a lossless audio compression format that is quite common on the Internet and may be found compressed in RAR files. Adding support for its playback to a variety of players is rather easy.
See: How to play APE files.
Common Files in RAR archives - Other
Here are a couple of other things you might find in RAR files.
VIDEO_TS / AUDIO_TS --> If you extract from a RAR file (or bunch of RAR files) and you find that a VIDEO_TS and AUDIO_TS folder are stored, then you have a DVD-Video compilation. To play this on your computer without burning, you will need to know how to handle VOB / IFO / BUP files.
See: How to play VOB / IFO / BUP files.
BIN / CUE --> If you find that you have BIN / CUE image files, then you will need to know how to play them by either mounting them, extracting from them or burning them.
See: How to play BIN / CUE files.
Finally
Hopefully after reading this article through you will be able to handle files in future with a .RAR extension. If you need further help, please visit our Discussion Forums for assistance.
Version History
v1.0
- First published by
Dela
(08/05/2008)