| | |
| --- | --- |
| Running SageTV on Windows XP Media Center Edition | You are viewing Page 3 of 4 -- Go to page 1 , 2 , 3 , 4 |
Installing and Configuring SageTV
Before installing SageTV you'll need to know where your multimedia files are being stored. By default Windows uses the My Documents folder for whichever user is logged in while Media Center is being run. Ideally you should have these files on a different hard drive than Windows is installed to, or at least a second partition if they share a hard drive. However, if you may need to run Windows Media Center again you'll almost certainly want to keep the files where they are or else you'll have to reconfigure it to find them in the new location.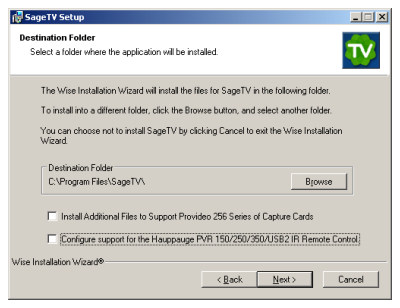 Installation
During installation you'll be given the options for specific ProVideo capture cards and Hauppauge remotes. Since I'm using a different capture card and MCE remote I won't be selecting either.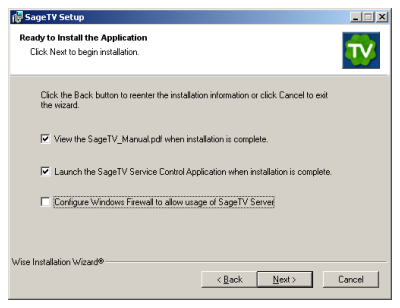 Post Installation Options
It's a good idea to look at the manual after installation. It's also recommended to run SageTV as a service, so you should open the Service Control Application. If you use the Windows' built-in firewall make sure to check the box to configure the Windows Firewall appropriately.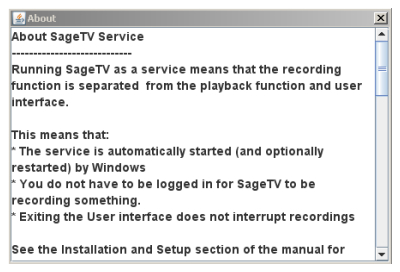 Running SageTV as a Service
Just as Windows Media Center has a scheduler that runs even when the interface is closed, SageTV can run in the background so you don't miss scheduled recordings if you're not using the program.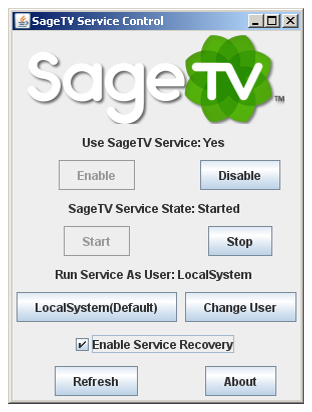 SageTV Service Configuration
Although you can use the Services MMC console to control the SageTV Service just as we used it to disable the Media Center services, but it's simpler to use SageTV's Service Control program. Use the Enable button to set the SageTV service to Automatic and the Start button to start the service. Checking the Enable Service Recovery box will allow Windows to attempt to restart the SageTV Service if it crashes for some reason.
---
Initial Configuration
To start SageTV for the first time you can use the shortcut on the Start menu. During initial configuration, which will start immediately, you can tell SageTV to start when you login to Windows. SageTV should recognize your MCE remote and allow you to use it in the configuration wizard, so you shouldn't need a mouse from this point on.
The images for each configuration screen have been resized for layout in this guide. Click on them to see larger versions. Use the arrow keys and Select/Enter key on your MCE remote. You can also navigate through these menus with a mouse.
Language and Region Settings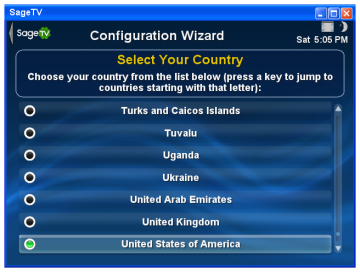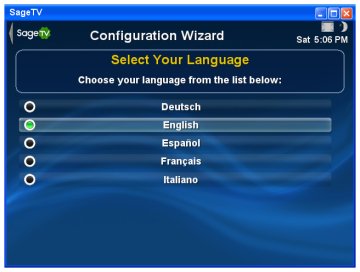 Select your country and language
SageTV Networking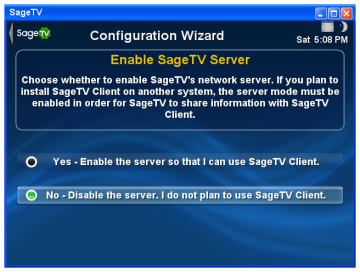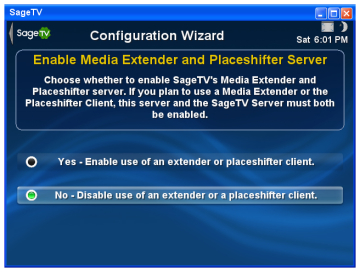 SageTV TV can be used to serve video either to a desktop or laptop computer using the SageTV PlaceShifter software client or a hardware Media Extender. In order to stream from your media center PC you'll need to enable the option for either the software client or media extender.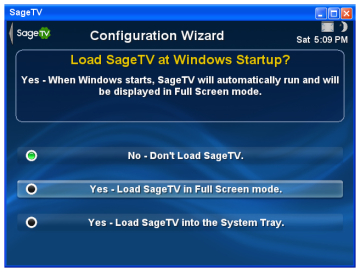 Load At Windows Startup
If you're using your computer as a dedicated media center you'll probably want SageTV to load in fullscreen mode when you login to Windows.
Overscan Adjustments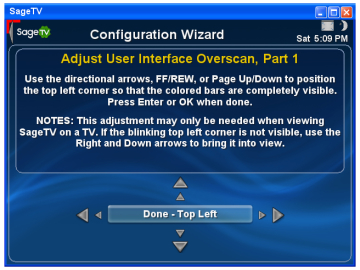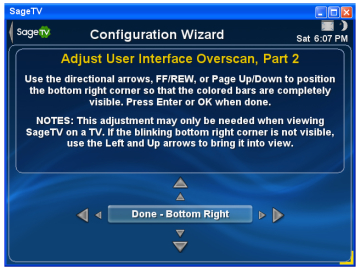 In order to compensate for your TV or video card stretching video beyond your TV's visible boundaries, SageTV lets you find the exact top, bottom, left, and right boundaries based on the top left, and bottom right corners. Use your remote's arrow keys to position the markers to the corner of your TV or display.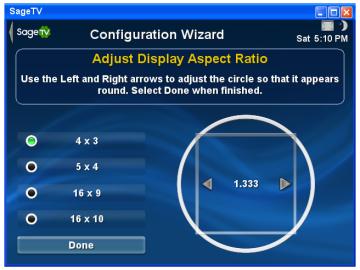 Display Aspect Ratio
Display Aspect Ratio refers to the shape of your TV screen. This should be either 4 x 3 or 16 x 9 for most TVs. For widescreen computer monitors it should be set to 16 x 10.
Combining Video and Menus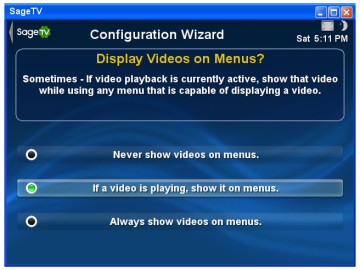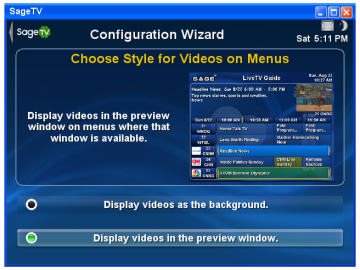 These options control what happens if you start navigating menus while watching live TV, a stored video file, or a DVD. You can choose to halt playback when a menu is opened. You can also make the video the background behind the menus by selecting either of the other options. If you select Always Show Videos on Menus, the background will be an empty video player when playback is stopped. Otherwise the default background will be used.
Display Syle
By choosing to display videos in the preview window you move them from the menu background to the preview window available in live Program Guide (TV Listings) and SageTV Recordings. Since the Media Center portion of SageTV has no such preview window, playback will stop entirely if a related menu is opened.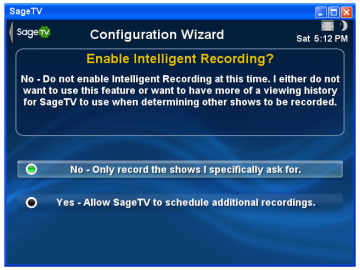 Intelligent Recording
SageTV's Intelligent Recording feature schedules recordings of shows you may like, based on your recording history. Since I don't use it for TV capture I can't tell you how useful this feature is.
Weather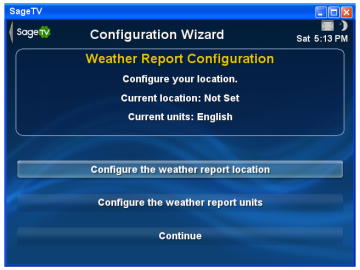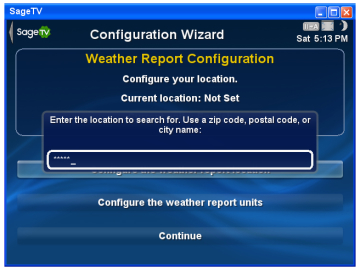 By configuring your location (in the U.S. at least) you can get up to date conditions and even forecasts. You must have your SageTV Media Center computer connected to the internet for this, or a number of other online services from YouTube and Google Video to podcasts on a variety of topics.
Media Settings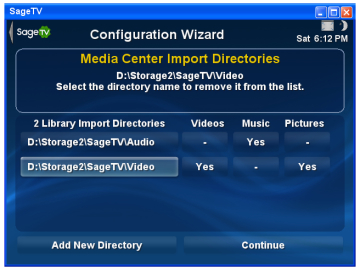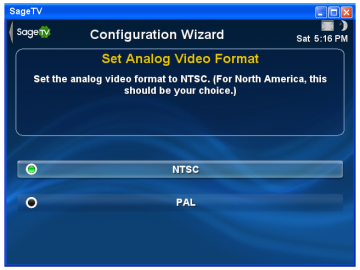 Import Directories are folders where media is already stored aside from the Video Recording Directories (see below). It's best to have both audio and video files stored on one or more hard drives, separate from the one(s) you capture TV to. If you're switching to different folders from the ones you were using with Windows Media Center yoiu may need to add the MCE folders here until you get everything moved.
Analog Video Format
You'll also need to specify whether your TV system is NTSC (North America and select other areas of the world) or PAL (Europe and just about everywhere else).
Video (TV) Recording Options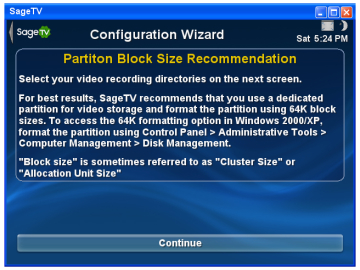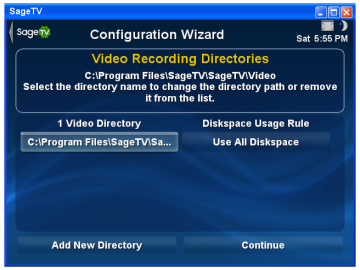 SageTV recommends using a dedicated hard drive for video capture, and they give optimal settings for formatting with instructions for performing the format with a built-in MMC console (similar to the one we used to disable the Media Center services).
Video Recording Directories
Select one or more folders to capture video to, and how much free space SageTV is to leave to avoid using the entire hard drive.
Basic Tuner Setup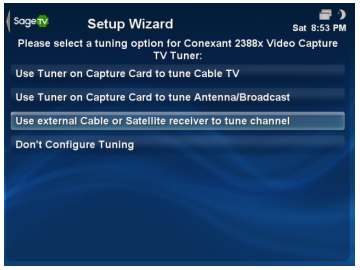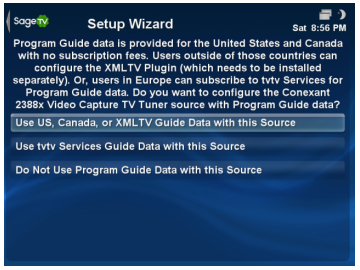 If you're in the U.S. or Canada SageTV can provide Program Guide listings through XMLTV.
Select Location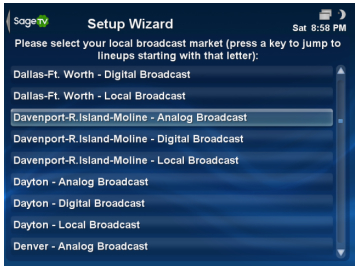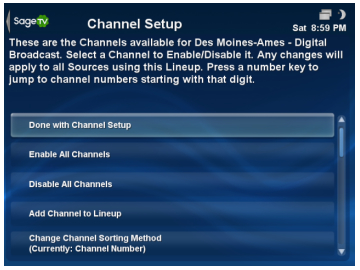 If you select XMLTV you'll be prompted for the TV market you live in. Once selected, a list of channels will populate the Program Guide, which you can disable or enable with the Select button on your MCE remote.
Test TV Viewing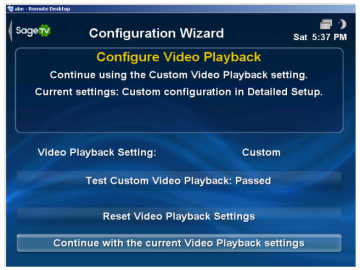 When you return from setting up your video (TV) source you'll be given the chance to test TV playback. If there are no problems select the Continue button to complete the wizard.
Using SageTV
Once you have the configuration finished you'll see the Main SageTV menu. You can go to Media Center, and then to Music and Videos to make sure any multimedia files you have in your import directories are there. One major difference between SageTV and Windows Media Center is the lack of a CD player or CD ripping. In a future guide I'll cover installation of a Windows Media Player plugin which will provide CD player functionality.