This guide shows how to use an excellent program from VSO Software called PhotoDVD, which allows you to take your collections of digital images and create a DVD slideshow from them full of animation effects, transition effects, subtitle comments, audio and more. The best part is the simplicity of the program when compared to the professional quality of the output. This is definitely a recommended piece of software for everybody.

---
Introduction & Requirements
Software you must download and install

 VSO PhotoDVD
 Required: Download and install VSO PhotoDVD. It is a free trial of the software. If you like it, then you should buy a license for it to unlock it for good. Download!
Operating System
: Microsoft Windows 98/ME/2000/NT/XP/VISTA
Software Homepage
:
http://www.vso-software.fr
Supported Image Formats
:
Alias/Wavefront images (*.rla; *.rpf)
Autodesk images (*.cel; *.pic)
CompuServe images (*.gif)
Dr Halo images (*.cut)
Encapsulated Photoscript images (*.eps)
JPG images (*.jfif; *.jpe; *.jpeg; *.jpg)
Kodak Photo-CD images (*.pcd)
Paintshop Pro images (*.psp)
Photoshop images (*.pdd; *.psd)
Portable map images (*.pbm; *.pgm; *.ppm)
Portable Network Graphic images (*.png)
SGI images (*.bw; *.rgb; *.rgba; *.sgi)
Tagged image file format images (*.fax; *.tif; *.tiff)
Truevision images (*.icb; *.tga; *.vda; *.vst; *.win)
Windows Bitmaps (*.bmp; *.dib; *.rle)
Windows icons (*.ico)
Windows metafiles (*.emf, *.wmf)
ZSoft Paintbrush images (*.pcc; *.pcx; *.scr)
Supported Audio Formats
:
DVD Format Output
:
NTSC
or
PAL
,
4:3
(Full Screen) or
16:9
(
Widescreen
).
Output Media
: DVD+/-R(W) &
Dual Layer
.
Language
:Multi-Language support.
Other
: Supports multiple audio and subtitle tracks (for comments on images).
VSO PhotoDVD Interface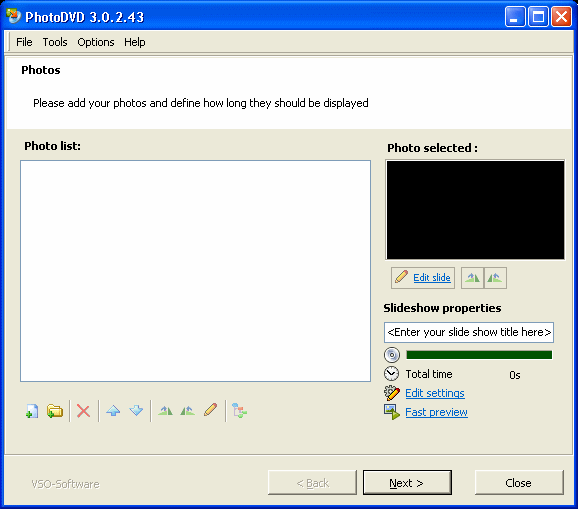 VSO PhotoDVD 3
has a very similar interface to the previous version of the software. In fact, it is almost exactly the same except for a few additions. Briefly, the main interface consists mainly of a photo list on the left and several items such as a preview window and buttons on the right. The program's interface is a step-by-step process once you have added your pictures and changed some settings on the main window. These steps we will walk through on the next page.
Let's begin - Move to Page 2
On the next page we will take a look at adding pictures to PhotoDVD and changing settings for them that will determine how they are displayed by a DVD player.