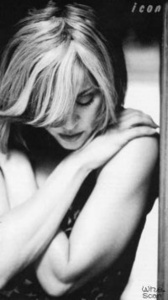 Madonna
, arguably one of the best-known figures in the music world, has release her latest single, an anti-war song
"American Life"
, as an unrestricted MP3.
The song costs $1.49 and can be bought from her homepage and paid with
PayPal
. She also released an affilate program that allowed fans to promote the single and if the song was bought via fans' links, the fan got a slice of the sale price that then can be turned into Madonna fan material. And because the single is 100% unrestricted, high-quality MP3, it can be copied to portable MP3 players as well as burned on CDR.
Madonna was one of the loudest opponents during the "
Napster
wars" back in late 1990s -- her back-then-yet-unreleased album,
"Music"
, found its way to Napster before its release date.
Her single is also available via major online subscription services, such as
Pressplay
and
MusicNet
.
Source: CNet