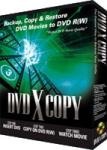 Today the much anticipated court room drama between major movie studios, represented by the
MPAA
, and
321 Studios
, the developers of the
DVD-Video
backup tools such as
DVD X Copy
and XPRESS, began in San Fransisco.
Movie studios are seeking a summary judgement against the 321Studios, claiming that its products violate the controversial
DMCA
law by circumventing the copy protection found on most DVD-Video discs. 321Studios claims that their software allows users only copy the originals, but doesn't allow making new copies from copies
(which is true, in some sense, since their tools wont allow copying copies that have been made with their tools -- but allows copying copies made with other tools)
and therefor only serves as a legitimate backup tool for owners of DVD movies. Studios counter-argue this claiming that it doesn't matter whether the user owns the original or not or what happens to the copy -- according to studios, the DMCA law explicitly says that all copy-protection circumvention tools are illegal.
The judge, Susan Illiston, said that she has read the previous major DMCA cases', the
2600
and
Elcomsoft
, verdicts and has been "substantially persuaded by them". At first, it seemed that judge is really siding with the studios' arguments, but later during the hearing, she also questioned various studios' claims as well. Judge asked what would happen to copy-protected movies after their copyrights expire and the studios' representative said that such works would be publicly available at that point. Judge replied to this, stating "But it's encrypted. If it doesn't stop being encrypted, it's still encrypted" and saying that under that situation, copying such works would be still illegal, even when their copyrights have already expired.
More information:

Official DVDXCopy forums
News.com