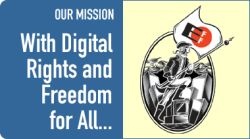 Electronic Frontier Foundation
has unveiled a campaign named
"Let the Music Play"
supporting legitimate peer-to-peer file swapping. The campaign is counter-reaction to RIAA's intentions to file lawsuits against people sharing music on peer-to-peer networks.
"
Today, more U.S. citizens use file-sharing software than voted for President Bush,
" Fred von Lohmann, senior staff attorney for EFF commented. "
Congress needs to spend less time listening to record industry lobbyists and more time listening to the more than 60 million Americans who use file-sharing software today.
"
EFF will be running advertisements in major publications calling for more productive means for RIAA and record labels to pursue their intrests.
"
Copyright law is out of step with the views of the American public and the reality of music distribution online,
" said EFF Executive Director Shari Steele. "
Rather than trying to sue people into submission, we need to find a better alternative that gets artists paid while making file sharing legal.
"
Visit the
campaign Web site
for more information.
Source:
Hollywood Reporter