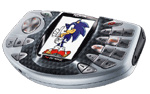 The next generation portable gaming console and cell phone / personal communicator Nokia N-Gage is now available for pre-ordering at various sources. Eurogamer reports that the O2 network operator is offering N-Gage for £99 with their one year contract.
Also according to the source the stand-alone retail packages of N-Gage are available from £229.99 and up, depending on the number of bundled games.
So it looks like that the N-Gage will hit slightly above the €300 mark, as several market analysts have predicted. The common opinion is that Nokia can't go higher than that because of the youngish target audience. Previously we have seen top of the line Nokia products to enter the market with premium pricing, but declining rather rapidly after the product has matured for a while.
Eurogamer.net