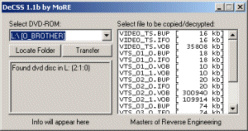 Jon Johansen
aka
DVD Jon
has pleaded not guilty again to the charges made against him. In the trial that began today Johansen is accused of violating the copyright protection on DVDs and thus promoting movie piracy.
Eight days have been allocated for the trial, and it will be overseen by three professional judges and four laymen, two of which have technical expertise relevant to the case.
Aftenposten writes:
According to newspaper VG's web site, the technical nature of the case led to judge Wenche Skjaeggestad asking the prosecutor to explain the meaning of the central term 'algorithm' (a computational procedure applied to solve a problem), a request eventually satisfied by one of the expert assessors.
Source:
Aftenposten