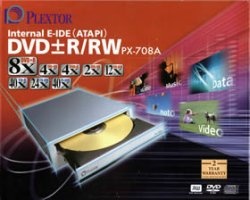 Our friends at
DVD Writers
have put
Plextor's
multi-format DVD-writer
708A
to the test.
Plextor have put out a fine product Plextor with their 708A DVD writer. Plextor has long been known as the company that produces quality optical drives and they haven't failed with the 708A - this drive is leagues ahead of the competition.

The 708A's 8 speed dvd writing in around 8mins is a far cry from the days of Pioneer A03 (which was our first reviewed DVD writer) and would write a DVD in around 1 hour. At 8 speed the 708A gave the fastest DVD writing times of any DVD writer we have tested. Since 8 speed DVD+R isn't an official standard the Plextor 708A can write to a few good quality 4 speed +R at 8 speed (saving you a few quid in the process).

... this is the best DVD writer - buy it!
To read the full review of this amazing drive visit
DVDWriters.co.uk