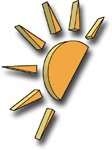 Next week most of the companies will get back to business and we'll start seeing new headlines popping up as they always do. But before that, maybe we should take a look back and see what happened in digital multimedia during the year 2003.
RIAA manhunt
Probably the most significant single event in the P2P world was the
court order in June
that forced
Verizon
to hand out its subscriber's personal details to
RIAA
who accused that the particular user had shared copyrighted music over the P2P networks. The decision was significant because it allowed RIAA to get personal details of Net users
without
suing them first
(and with no requirement to sue them after the details were handed over either)
.
This decision sparked a
massive legal action
by RIAA against individual P2P users
(read: music consumers, RIAA's own customers)
. Hundreds and hundreds of personal details were handed to RIAA which settled most of the cases out of court, but also sued several users. The manhunt was then stopped or at least limped by
another court order just before Christmas
that decided that RIAA has to sue the users before it can get the personal details from ISPs. This decision means that RIAA has to be much more careful in its actions, as it has to take the cases to court rather than just threaten the users to settle their cases out of court.
Next generation DVDs
Year 2003 can be considered a year when DVD finally got mainstream in all Western countries, pushing VHS cassettes out of video rental stores and generating billions of extra dollars for movie studios. But it was also a year full of uncertainty over the inevitable successor for mega-popular format. The best-known applicant for that crown,
Blu-Ray
, was officially
launched in March
when Sony unveiled world's first Blu-Ray recorder in Japan. But
DVD Forum
decided in November to
adopt a proposal from NEC and Toshiba
(which is not compatible with Blu-Ray)
to carry the label of
HD-DVD
, launching a yet another format war in very near future.
To make the matters worse, Chinese DVD player manufacturers got bored of paying royalties to Western and Japanese consumer electronic companies and
China announced its own next-generation DVD format
in November, which, obviously, is not compatible with HD-DVD or Blu-Ray.
DVD-R or DVD+R?
Existing format war between two recordable DVD formats escalated, but also calmed down, during the year 2003. Now virtually all the major manufacturers produce dual-format recorders that allow burning both, "dash" and "plus", formats. Which one is then winning? According to a recent article in CNet, DVD-R media sales accounted for more than 60 percent during the first, second and third quarters of year 2003
(the fourth quarter results aren't in yet)
. This indicates very much that while consumers are buying dual-format recorders, they're opting for cheaper "dash" media.
As the year 2003 was nearing towards its end, both competing camps announced that they're working with dual layer recordable formats, promising products in stores in 2004. When the dual layer recorders finally arrive sometime in 2004, current DVD-2-DVDR solutions will face a very dramatic and quick death as there wont be a need to compress or split
DVD-9
(dual layer)
movies down to the size of
DVD-5
(single layer)
movie, but movies can be simply ripped with a DVD ripper and burned directly to a dual layer DVDR. Only thing that can postpone this inevitable fate is the fact that there are already millions of DVD-R and DVD+R burners in the world that wont be able to burn dual layer discs and have to stick with single layer discs. Also, the cost of dual layer media will, at first, postpone the revolution a little longer.
Europe's own DMCA -- let's welcome EUCD..
Two years after it was approved by ignorant European Parliament, the
EUCD
legislation finally arrived to various European Union countries, including Germany. EUCD outlaws distribution of tools that allow technical circumvention of copy protection mechanisms, however simple the copy protection is. Some countries, including Germany, opted for even tighter legislation that basically make it illegal to even discuss about such procedures. So, countries that have already adopted EUCD, it is very much illegal to distribute -- even for free -- tools such as
DVD Decrypter
or other DVD rippers and audio CD rippers that allow circumventing sometimes rather annoying copy protection mechanisms. Luckily
AfterDawn Ltd
's home country, Finland, has been a bit slow adopting the new legislation and it is not yet part of Finnish law.
iTunes and tons of clones
Apple
showed the world and the sceptic recording industry that selling digital music online can be a viable business model, by
launching its online music store, iTunes, in May
. After its initial, enormous success, it sparked tens or even hundreds of copycats all over the world and it is highly likely that in 2004 we'll see all the major media and software companies to enter the race. Does this finally mean the end of CD? I doubt it, but its importance has been shrinking all the time, ever since the introduction of portable MP3 players 5 years ago and P2P revolution that
Napster
launched four years ago.
AfterDawn with a new look
We, AfterDawn admins, had a very, very busy autumn and end of the year as we prepared to launch a new version of our website. After months of planning, programming and fighting over details we finally launched the new site
20th of December
. Launch itself was relatively smooth, with just some minor and few major bugs appearing right after the launch and those were ironed out rather quickly. To make matters much worse, our ISP managed to
wipe out our database server
two days after the new layout was launched. We're currently transferring our servers to a new ISP, which should be completed in very near future which should solve the current performance problems caused by the removal of our database server.
AfterDawn keeps growing..
Once again, I'd like to thank you, our users, for making our site one of the largest digital multimedia sites in the world. During the year 2003 we once again experienced enormous levels of growth and expect the same trend to continue in 2004 as well. Thank you and let's make the year 2004 even better than the 2003 was!
-Petteri Pyyny
AfterDawn.com