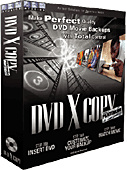 Macrovision
, the company who develops copy protection mechanisms found on most of the
DVD-Video
discs and commercial
VHS
tapes, has sued
321 Studios
, software company who has developed various DVD backup tools, most notably
DVD X Copy
series.
Macrovision charges that 321 Studios' DVD X Copy tools infringe with Macrovision's patented copy-protection technology and also violates the DMCA law. The charge under DMCA legislation is interesting as DMCA states that circumventing "effective" copy protection measures is illegal. But when most of the world is buying perfectly legally
(not U.S. though)
"modded" DVD players that circumvent Macrovision's bit code copy protection
(and of course region codes as well, but they don't relate to this lawsuit)
and virtually every school kid knows how to use any freely-distributed DVD ripper to get rid of the Macrovision, the claim that their weak bit setting copy protection mechanism could be considered "effective" is bit misleading.
"
321 Studios infringes Macrovision's intellectual property by offering products that enable users to make unauthorized copies that contain our patented process and sometimes illegally bypass our copy protection system,
" says Macrovision CEO
Bill Krepick
.
Source: San Jose Business Journal