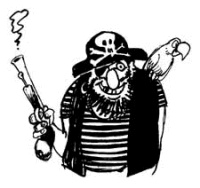 The
Federal Bureau of Investigation
has confirmed that it is investigating the case of DVD screener copies sent to Academy Award members being leaked and pirated.
Four films, "Something's Gotta Give," "The Last Samurai," "Master and Commander: The Far Side of the World" and "thirteen" are being looked into. According to studio sources the leaked movies have been traced to actor
Carmine Caridi
. Caridi is a member of the
Academy of Motion Picture Arts and Sciences
, the institution that hands out the Oscar awards.
FBI has only confirmed that they are looking into the case, but has not disclosed further details.
MPAA
has wanted to
ban screeners
altogether, but later
agreed
to lift the ban on Oscar screeners, but
maintained the ban
on other awards. After being
sued
over the ban, a federal court
ruled in December
that MPAA cannot stop its members from distributing screener copies. Later MPAA
announced
it would appeal the ruling.
Source: CNN.com