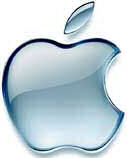 Apple
announced today that it has so far received over 100,000 pre-orders for its upcoming new portable digital audio player,
iPod Mini
. iPod Mini will go on sale on Friday in States and costs $249 in the U.S. and €249 in Europe
(appx. $320)
.
The device is Apple's response to cheaper flash-based devices that provide less storage space than original iPods, but cost significantly less. Even that the product isn't exactly cheapest possible on the market, it still seems to fit a niche that wants to have iPod's style but not the price tag that goes up to $499. Obviously the other factor that boosts iPod Mini's sales is the size of the device -- it should offer the identical award-winning user interface that "big iPods" have, but the size of the iPod Mini is only 3.6 x 2 x 0.5 inches
(9.1x5.1x1.2cm)
and it weights 3.6 ounces
(102g)
.
iPod Mini has a storage capacity of 4GB and comes in variety of colors
(unlike the original iPods that come only is "Apple white")
.
Source: Reuters