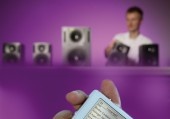 Fraunhofer IIS
and
Agere Systems
have developed a multi-channel MP3 format that produces 5.1 sound at bitrates comparable to those used today to encode stereo sound in MP3 format. In addition to offering multi-channel sound at low bitrates, the
MP3 Surround
-format is also fully backwards compatible with all existing MP3 players.
MP3 Surround technology encodes multichannel sound by transmitting a stereo audio signal that carries a compatible stereo down mix of the multi-channel material. The multi-channel sound image is created by additional side information, that characterizes the spatial distribution and attributes of the sound. Since the channel information is not discrete, the format cannot be compared to, for instance, Dolby Digital multi-channel audio.
"
Enjoying personal multi-channel audio has been on the wish list of the MP3 user community for quite some time. This is exactly what MP3 Surround has to offer -- and it does so at astoundingly low bit rates
", says
Jürgen Herre
, Chief Executive Scientist of the Audio & Multimedia departments of Fraunhofer IIS, Erlangen.
The most obvious solution for multi-channel, low-bitrate MP3 audio is in network distributed movies. First software implementations are expected to be available by mid 2004. Until then we can only guess how well MP3 Surround can perform.
Source: Fraunhofer IIS