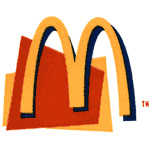 World's largest fast-food chain,
McDonald's
, has announced that it will start offering rental DVDs through its restaurants in metropolitan area of Denver.
The DVD rentals are made through a vending machine that charges customer's credit card for the rental. Each rental will cost $1 a day plus local sales tax. The machines will be available in all McDonald's restaurants throughout the Denver area and each one will be open 24 hours a day. Each machine will contain appx. 350 movies and new titles will be added to machines on weekly basis. Some of the machines have already been installed and others will be rolled out during the June. McDonald's has 104 restaurants in the area.
Even though this is an obvious threat to world's largest movie rental chain,
Blockbuster
, company doesn't seem to be worried.
"We're about as concerned as they would be if we announced we were selling hamburgers in our stores,"
said Randy Hargrove, a spokesman for Blockbuster.
Source: Denver Post