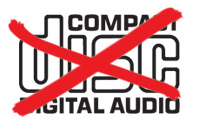 For the first time since the introduction of copy protected CDs (or non-standard 12cm plastic discs, as I like to call them) one of them has managed to top the United States album charts. According to
Nielsen SoundScan
figures,
"Contraband" by Velvet Revolver
was the #1 album in the U.S. last week.
The album, released by BMG, uses
MediaMax
copy protection, and the protection is also clearly marked on the album cover. MediaMax isn't actually a copy protection at all. When you insert an MediaMax protected CD in a Windows or Max OS X computer it will automatically install a device driver on your computer, which detects when audio CDs are being ripped, and distorts the audio. Systems running, for instance,
Linux
or older versions of Mac OS are not affected at all. Windows (and probably Max OS X) users can "bypass" the protection simply by disabling autorun.
Obviously BMG sees the success of the album as a sign that people accept the copy protection. That is, of course, probably the most naive conclusion in the history of logic. If the consumer doesn't have an alternative, and wants to buy the album by former members from
Stone Temple Pilots
and
Guns 'Roses
, maybe he or she buys the copy protected album? Should there have been both a copy protected and a standard Audio CD available on the market, then you could perhaps make some conclusions about the acceptance of copy protection. To make things interesting, BMG could have priced the standard CD a buck more expensive.
Unlike many other CD copy protection systems, MediaMax doesn't feature any artificial, physical defects, so the CDs should be playable on most CD players on the market. Just remember to hit the
shift
-key when inserting one in your PC.
Source: News.com