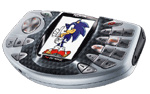 Nokia's entrance to the gaming market has been highly visible due to the heavy marketing budget, but not especially successful. The N-Gage has been taunted ever since it was launched, and the QD-model combined with dramatic price reductions were aimed to improve demand. It's actually kinda funny that the original N-Gage
is a very good phone
, with all the Symbian S60 features and you can get it for less than €100. This is a ridiculous price when compared to other S60's with similar features, with the addition of the camera of course.
Finally, Nokia can say that 1 million units has been sold and some brand recognition for the N-Gage has been gained. Looking back in time, the pioneering role in the gaming industry has always been a very challenging one. But Nokia has one advantage in the game it is playing -- it is an extremely healthy and wealthy company, and it can afford to wait for the potential long term returns on investments. The approach could be quite similar to Microsoft's Xbox, which has so far produced nothing but losses.
With a growing portfolio of exciting games, the N-Gage offers consumers the possibility to play exclusive N-Gage only games as well as some of their favorite brands from publishers like Activision, Electronic Arts, Gameloft and THQ. The 2004 holiday season will see the N-Gage portfolio expand even further, with eagerly anticipated games such as Pathway to Glory, Pocket Kingdom: Own the World, FIFA 2005 and others.
Read more at:
N-gage.com