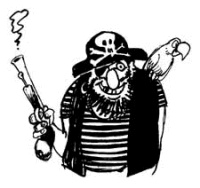 United States'
Copyright Office
has finished a new draft version of so-called
Induce Act
legislation proposal, which tries to address some of the problems with the original proposal, but according to various parties, seems to fail as miserabely as its predecessor.
Induce Act is basically a proposal for a new law in United States that would make P2P networks illegal by making it illegal to "induce" a person to violate copyright legislation. The new version, which is not the version ultimately going to be proposed as a new legislation, but rather a mid-way-through draft version, adds a definition for "inducing":
"affirmative, overt acts that are reasonably expected to cause or persuade another person or persons"
. By adding this wording, Copyright Office tries to shrug off the criticism that the original version would have outlawed
iPod
and other digital players that support non-DRM file formats, such as MP3, and thus "induce" people to break the copyright laws.
But according to ISPs, such as
Verizon
, the draft of the proposal still has major flaws -- in one section, the text states that companies who "actively interfere" with a copyright owner's efforts to identify pirates could be sued. This could mean that if
RIAA
asks an ISP to hand over all of the personal details of all of its users, without giving further reason for doing so, the ISP could be sued for "interfering" RIAA's P2P jihad.
Source: News.com