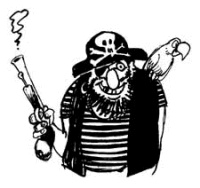 NDS
,
STMicroelectronics
and
Thomson
announced on Friday that they will begin implementing new anti-piracy technology to weed out video piracy.
The technology, known as the secure video processor (
SVP
) platform, will allow media companies to protect their content using their own DRM specifications. The protected content could only be viewed on SVP-capable devices.
Thomson will start embedding SVP-chips to its video players and set-top boxes next year.
Clearly the consumer is the entertainment industry's worst enemy. The new anti-piracy technologies do little more than make the lives of the consumers more difficult. Professional pirates have not been stopped by DRM before, and they will most certainly not be slowed down by SVP.
Source: News.com