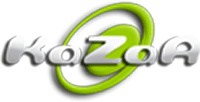 Kazaa
, which is one of the most used P2P software applications in the world has announced that its newest version, v3.0, will come bundled with
Skype
. Skype was developed by the same people who are responsible for Kazaa,
Nikolas Zennström
and
Janus Friis
. Skype allows its users to make free Internet
VoIP (Voice over Internet Protocol)
phone calls worldwide, using a P2P-like system.
Sharman Networks
CEO
Nikki Hemming
said,
"The inclusion of Skype is a natural extension of the Kazaa product and of peer-to-peer. As pioneers in the P2P field, Sharman Networks believes the integration of Skype – considered the best product in the market for Internet phone calls – will deliver powerful consumer benefits."
.
Besides adding Skype, Kazaa 3.0, has also improved it's searching, allowing users to get up to 3,000 results per search. Kazaa however, is losing support from the P2P community and is constantly under attack from file poisoners and anti-P2P organizations. Earlier this year, the eDonkey2000 network replaced Kazaa's
Fasttrack
network as the worlds most used P2P network.
Source:
The Register