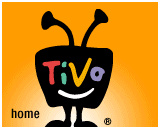 Most popular DVR system in the United States,
TiVo
, is expanding its reach to desktop PCs and later -- according to the company -- to DVDRs. The new service dubbed as
TiVoToGo
is available via the latest firmware update on Series 2 TiVo boxes and allows users to transfer the recorded TV programs to desktop PCs.
Exact technical specs are non-existent in press releases, but it seems tha in order to watch the TiVo recordings on PCs, users need to install a separate application called
TiVo Desktop
and an appropriate codec for viewing the material.
However, company announced that the
DirecTV
versions of TiVo wont be able to use the new service and neither could third party DVD recorders by
Humax
,
Pioneer
, etc that have TiVo technology embedded within them. But company said in its press release that most DVD recorders with an embedded TiVo service should be upgradeable to use the TiVoToGo.
Anyway, the service sounds tempting for American consumers and the new service is already included within the TiVo's monthly subscription fee, so its simply a matter of owning a correct version of the TiVo device
(Series 2)
in order to use it.
Company will also soon offer a version of
Sonic
's
MyDVD
that will enable TiVoToGo users to burn their recording to DVDR discs.
Source: InternetNews.com