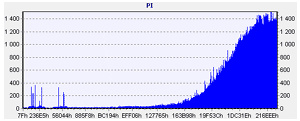 Recordable media error rate scanning is valuable tool for determining the quality of the recorded media. It is the most convenient way (but not the most accurate) for the end users to evaluate the quality of their purchases, and assists in avoiding bad buys. You can see examples of error rate analysis
here
, where
Kprobe
software was used in our article.
But this feature has not been available for all DVD-R drives so far.
LiteON
is propably the first to have such features, and recently it has been possibly to perform on many other major brands as well, including
Pioneer
and
BenQ
.
But now
Erik Deppe
, the author of CDSpeed, bring the error rate scanning support on the
NEC
drives, models
3500
and newer. This is great news, since NEC is making very good drives at affordable prices, so they have a large customer base. Now with NEC customers also being able to analyze their discs, loads more media quality information can be expected to popup on the Internet.
Read the announcement at:
CDFreaks forum