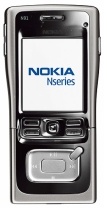 The world's largest mobile phone manufacturer, Finnish
Nokia
, announced yesterday its latest phone,
Nokia N91
which takes its aim at
Apple
's
iPod
and other portable audio players.
The phone features a 4GB harddrive and a standard stereo headset jack. Additionally the phone includes an integrated wireless LAN adapter, which allows the phone to access Internet via WLAN networks, and allows easy-to-use wireless transfer of audio tracks from desktop computers. The phone can be also synchronized by connecting it to a regular USB 2.0 port.
N91's audio player supports
MP3
, M4A,
AAC
and
WMA
formats and the 4GB HDD is capable of storing upto 12.5 hours of music using the latest audio codecs. Th device is a so-called 3G phone and should be available worldwide by the end of the year. Pricing details were not announced yet.
Nokia's idea is clear -- people are now carrying tons of gadgets with them, typically a PDA, a phone and a portable digital music player. By combining all of these into one unit might prove to be a successful concept.
Source: Nokia