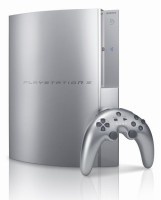 Japanese electronics giant
Sony
unveiled their next generation superconsole at the
E3 expo
in Los Angeles. In addition to disclosing the technical specifications of the console, Sony displayed some impressive technology demos to the audience.
PS3 will be powered by a
PowerPC based 3.2GHz Cell processor
providing 218 gigaflops of floating point processing power. The graphics will be run by a GPU developed by
nVidia
-- the
RSX
(short for
Reality Synthesizer
) has 1.8 teraflops of floating point processing power. That puts the total performance to over 2 TFLOPS -- double that of the
Xbox 360
console (officially) unveiled last week.
The full specs for the CPU and GPU are:
CPU
Cell Processor
PowerPC-base Core @3.2GHz
1 VMX vector unit per core
512KB L2 cache
7 x SPE @3.2GHz
7 x 128b 128 SIMD GPRs
7 x 256KB SRAM for SPE
* 1 of 8 SPEs reserved for redundancy
total floating point performance: 218 GFLOPS
GPU
RSX @550MHz
1.8 TFLOPS floating point performance
Full HD (up to 1080p) x 2 channels
Multi-way programmable parallel floating point shader pipelines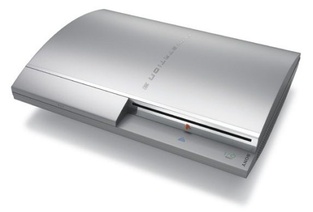 The console is capable of providing HDTV video at 1080p, which is called by many "True High-Definition video". 1080p provides progressive 1920x1080 pixel resolution. Xbox 360 has HDTV support up to 1080i resolution, which is interlaced 1920x1080. As if that wasn't enough PS3 provides a dual HD output. That is you can hook two HDTV capable devices to the console's HDMI connectors.
Dolby Digital, DTS, LPCM etc. multi-channel audio is, of course, also supported.
AV Output
Screen size: 480i, 480p, 720p, 1080i, 1080p
HDMI: HDMI out x 2
Analog: AV MULTI OUT x 1
Digital audio: DIGITAL OUT (OPTICAL) x 1
PS3 has 256MB of XDR main RAM running at 3.2GHz. In addition it has 256MB of GDDR3 video ram running at 700MHz.
Memory
256MB XDR Main RAM @3.2GHz
256MB GDDR3 VRAM @700MHz
System Bandwidth
Main RAM: 25.6GB/s
VRAM: 22.4GB/s
RSX: 20GB/s (write) 15GB/s (read)
SB: 2.5GB/s (write) 2.5GB/s (read)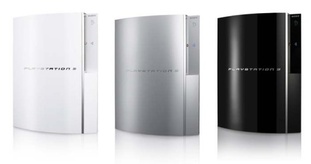 In addition to supporting
DVD±R/W
and
CD-R/RW
formats, PS3 will also support
Blu-ray
media.
Disc media (read only)
CD: PlayStation(R) CD-ROM
CD: PlayStation(R)2 CD-ROM
CD-DA: CD-DA (ROM), CD-R, CD-RW
SACD: SACD Hybrid (CD layer), SACD HD
DualDisc: DualDisc (audio side), DualDisc (DVD side)
DVD: PlayStation(R)2 DVD-ROM
DVD: PLAYSTATION(R)3 DVD-ROM
DVD-Video: DVD-ROM, DVD-R, DVD-RW, DVD R, DVD RW
Blu-ray Disc: PLAYSTATION(R)3 BD-ROM
BD-Video: BD-ROM, BD-R, BD-RE
The connectivity of the console is very impressive indeed. In addition to the versatile audio/video connectors, the console will have not one but three gigabit ethernet connectors (1000BASE-T) -- one for input and two for output. That allows PS3 users to hook up multiple units without the use of external hubs or switches. The console will also have 802.11 b/g Wi-Fi capability and Bluetooth 2.0 EDR (Enhanced Data Rate) built-in.
Communication
Ethernet: (10BASE-T, 100BASE-TX, 1000BASE-T) x 3 (input x 1 output x 2)
Wi-Fi: IEEE 802.11 b/g
Bluetooth: Bluetooth 2.0 (EDR)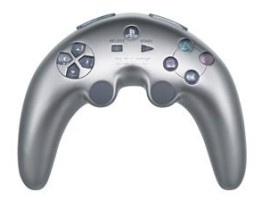 Users will be able to connect up to seven wireless controllers simultaneously over Bluetooth. Wired USB2.0 controllers can also be used. In addition the
PlayStation Portable (PSP)
can be used to control PS3 over Wi-Fi. Two-way communications between PSP and PS3 will provide huge opportunities for game developers to realize even their wildest visions. The console can also be controlled via network over the TCP/IP protocol.
Controller
Bluetooth (up to 7)
USB2.0 (wired)
Wi-Fi (PSP)
Network (over IP)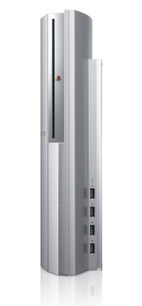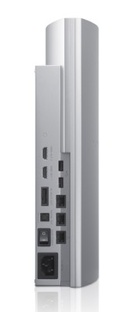 PlayStation 3 will be fully backwards compatible with both PlayStation and PlayStation 2 consoles. Apparently Xbox 360 will also be backwards compatible with the existing Xbox games, which probably is a small relief to Xbox owners.
In technology demonstrations Sony showed some impressive footage. The rubber duck demo, which was shown at PlayStation 2 unveiling, had received a facelift. The bathtub scene with rubber duckling was first improved by popping in a couple of pirate ships with impressive looking sails getting shot through with cannonballs. Then the bathtub was filled with a thousand more ducks bobbing around in the water.
Also demonstrated was the upgraded version of
EyeToy
, which can now be controlled via voice commands as well. In one of the demos a man held two glasses in his hands over the tub (using EyeToy) from the rubber duck scene, dipped the glasses in the water, filled them up and then poured them empty. The demo sent ripples of excitement through the audience,
Joystiq
reports.
Square Enix
showed the
Final Fantasy VII
opening sequence -- rendered in real-time. FF7 will not be ported to PS3, though. A new Final Fantasy game will, however, find its way to the new platform.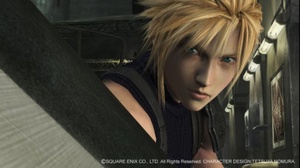 PlayStation 3 will hit the stores in Spring 2006.
Sources:
Sony press-release
Joystiq
IGN
The Register
BBC