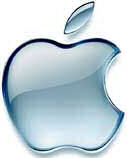 The fruit company dropped some bombs and they were not even related to music industry.
Steven Jobs
told the audience at Apple Computer's Worldwide Developer Conference that Apple would be switching to hardware based on
Intel
chips. This will definitely be a huge blow to some Apple fanatics, but only a detail with little impact to the regular clueless Mac user.
But once again this makes me really wonder is Apple slowly aiming their guns towards Microsoft Windows? This has been speculated for quite some time, and again it seems to one step closer. And even the hard core PC/Windows users must admit that the OS X is a damn fine operating system.
Jobs said on Monday that the company would begin incorporating Intel chips in some Macs reaching the market next year and largely complete the changeover by 2007. For the transition, Apple will bring out a version of its operating system, Macintosh OS X Tiger, that will run on both IBM and Intel chips.
Source:
International Herald Tribune
In addition, Apple has opened up their open source strategy. Apple's primary web browser, The Safari, is based on the KHTML browser engine of the Linux/KDE Konquerror. The KDE developers have not been too pleased about the way Apple has participated to the open source developement. But now Apple has decided to open the source code of Safari and therefore contribute to the developement.
Developers of the KHTML browser engine, which Apple selected more than two years ago as the basis of its Safari browser, in recent months complained that Apple was taking more from their open-source project than it was contributing to it.

Now Apple may have succeeded in mollifying those volunteers with the launch Monday of the WebKit Open Source Project amid a revamp of its open-source practices.

"The Safari team is proud to announce that we are making significant changes in the way we operate, and these changes start today," David Hyatt, an Apple engineer on the Safari project
Source:
ZDnet