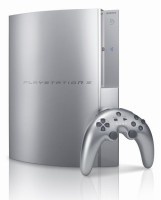 A change has been made to the original specs that were unveiled for the
Sony Playstation 3 (PS3)
. Due to the costs of manufacturing,
Sony Computer Entertainment
boss
Ken Kutaragi
told publication
Nikkei Electronic
, that the PS3 will no longer be able to act as a home network router. He admitted that it would simply cost too much to leave the functionality in the console which is expected to be released in spring next year.
Originally the PS3 would have allowed the system's three Gigabit Ethernet ports to be used as a home router. Sony suspects now that users will simply continue to use their existing router hardware, which is becoming more used in homes now for such tasks as sharing Internet broadband connections. It's not yet clear how exactly this will change the look of the PS3.
Source:
GamesIndustry.biz