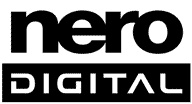 Nero
, leader in digital media technologies and developer of award-winning Nero applications, announces the release of
Nero Digital Pro
, audio and video
Compression
solution bundled with Nero's top five applications. The package includes full versions of five different applications:
Nero Recode 2
,
Nero ShowTime 2
,
Nero PhotoSnap
,
Nero MediaHome
and
NeroVision Express 3
. Nero Digital Pro is an upgrade from the Nero Digital 30-Day Trial version
recently offered
to provide the user with an opportunity to create, play and share Nero Digital content for a Limited time.
With Nero Digital Pro, the user fully utilizes the potential of the tried and tested video and audio compression technology, along with select Nero applications offering support for Nero Digital technology. With Nero Recode 2, non-copy-protected
DVD
films can easily be compressed into Nero Digital™ format yet still offer top quality video. Then playback Nero Digital™ format with Nero ShowTime 2. With Nero MediaHome, users can then share Nero Digital™ content through any
UPnP™
or
DLNA
compliant multimedia device, PC or laptop in a home network. With NeroVision Express 3, videos can be captured, edited and exported to Nero Digital™ file format. In addition, Nero Digital Pro also contains the full version of Nero PhotoSnap editor and PhotoSnap Viewer. Nero PhotoSnap offers a variety of powerful functions for digitally processing your favorite photos; Nero PhotoSnap Viewer lets you view and print pictures in different file formats.
Nero Digital™ is a complete audio/video
Codec
solution based on the
MPEG-4
standard, but also supports the MPEG-4 AVC/H.264 codec, already adapted as mandatory codec for future standards, such as
HD-DVD
and Blu-ray. Its powerful compression technology allows for previously unheard of volumes of data to be saved. Video material is compressed to about 20% of its original volume, delivering top quality results that can be easily and quickly shared and used on mobile devices. Nero Digital™ videos can be played back on PCs running the Nero Digital codec and on the growing number of certified Nero Digital™ consumer electronic devices.
Co-developed by Nero and Ateme, Nero Digital™ is fully based on industry standards MPEG-4 Video (MPEG-4 SP/ASP and AVC/H.264) and MPEG-4 Audio (LC
AAC
und HE AAC) compression technologies, allowing the flexibility to play MPEG-4 compliant content, yet offering advanced interactive features in unprecedented audio and video quality. With Nero Digital™, users can fit more high quality audio and video content to any given screen size, ranging from cell phones to
HDTV
on CDs, DVDs, flash memory and hard drives.
Source:
Nero Digital