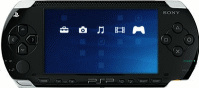 Many gamers in the EU, as well as in Australia and New Zealand will be delighted to finally be able to get their hands on a
PSP
console (without importing) tomorrow. Across Europe, PSP devices were being sold for the past couple of days, but games are not to go on sale until tomorrow. The launch comes finally after months of uncertainty about the PSP release date that left European gamers feeling snubbed by
Sony
.
The PSP console was released late last year in Japan, and then in the United States in March earlier this year. Sony is aiming to make the device attractive not only as a portable gaming console, but also as a portable entertainment device capable of music and video playback. Since its launch articles have appeared all over the web showing you how to convert video files or DVDs to playback on your PSP via a MemoryStick.
And along with the excellent success the PSP has gotten, there also has to be a degree of headaches for Sony due to the enthusiasm of thousands of hackers worldwide who eagerly awaited the console's launch. As a result it is possible to run homebrew apps on the PSP under
firmware
versions 1.00 or 1.50. This makes it possible to play games that were not made for the console as well as various other tasks such as launching some PSP games from MemoryStick.
PS2NFO
is reporting that there is a notice accompanying the PSP device which instructs users to insert the Demo disc for the latest system updates. This means that the European PSPs use firmware version 1.52. To anyone hoping to run homebrew on their PSP eventually, updating to the recent 2.00 is not recommended.