Finnish mobile phone giant
Nokia
has unveiled yet another mobile phone/music player. The
Nokia 6630 Music Edition
phone is a special music version of the iconic 3G smartphone. It supports playback of the
MP3
,
AAC
and
WMA
audio formats and comes bundled with a 256MB memory card to store the tracks. You can transfer music to the Nokia 6630 Music Edition quickly and easily, with the included Nokia PC Suite software or with the bundled Nokia USB MMC/SD reader.
Connecting your favourite headphones is a snap with the Nokia Audio Adapter and its 3.5 mm stereo jack. Nokia also launched the Nokia Music Pack, a bundled package of enhancements that makes it easy to enjoy your music collection on your mobile device. The package includes the Nokia Audio Adapter, the Nokia 256 MB MMC Card, the Nokia USB MMC/SD reader and Nokia Stereo Audio Cable.
Of course along with its audio capabilities, it also has all the other features you would expect from a Smartphone including a 1.3 megapixel camera, mobile broadband access with WCDMA networks, mobile email,
streaming
video and much more. The phone is available in either Rustic Red or Aluminium Grey. It will ship later this month and is available for European, Middle Eastern and African markets.
N91 Delay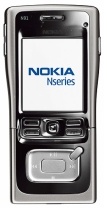 While the Nokia 6630 Music Edition phone looks sweet and would be a nice gadget to own, many a geek has already felt the need to get their hands on the
Nokia N91
phone that was announced in April this year. The 4GB storage capacity is a major selling point of the phone. It could store a lot more tracks than the
Motorola ROKR
phone (
iTunes
phone) which is advertised as being able to store about 100 tracks.
The bad news however is that the N91 phone has been delayed until 2006 after it was originally aimed for a late 2005 release. N91's audio player supports MP3, M4A, AAC and WMA formats, features a 4GB harddrive and a standard stereo headset jack. Additionally the phone includes an integrated wireless LAN adapter, which allows the phone to access Internet via WLAN networks, and allows easy-to-use wireless transfer of audio tracks from desktop computers. The phone can be also synchronized by connecting it to a regular USB 2.0 port.
The N91 phone should be become available during the first quarter of 2006. The company wants the phone to be compatible with as many music providers as possible. The company told
Reuters
that ensuring a solid implementation of
Microsoft
's
DRM
was a primary reason for the delay.
Sources:
Nokia (Press Release)
Betanews
Nokia 6630 Pictures