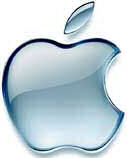 Apple Computers Inc.
has managed to quadruple quarterly profits due to the sale of more than 6.5 million
iPod
music players around the world in the last three months. The company's net profits for its fiscal fourth quarter rose to $403m, up from $106m last year. That is 50 cents per share, which beat market expectations of 36 cents per share but quarterly turnover disappointed investors. Analysts had expected revenues of $3.74bn, but the final figure was $3.68bn, a rise of 56%.
Apple's shares fell in the after-hours trading in New York as a result. Apple has over 75% of digital music player market and keeps on introducing new iPods to the world. Last month the company unveiled the
iPod Nano
alongside the iTunes phone. The Nano was a big hit with consumers, despite reports that some of the Nano screens were very prone to scratching. Sales of iPods were up 220%, compared to the same period a year earlier and sales of Macs were up 48%.
"We're thrilled to have concluded the best year in Apple's history,"
said
Steve Jobs
, Apple's chief executive.
"This is the direct result of our focus on innovation and the immense talent and creativity at Apple. We could not be more excited about the new products we're working on for 2006."
Today, Apple is set to unveil another product to the digital music world. The biggest rumours so far have been about either an iPod with video support or a new standard iPod with 80GB storage capacity.
Source:
BBC News