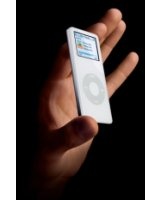 The
EMI
group has announced that it will be producing copy protected CDs that will contain music capable of being stored and played on
Apple Computer
's
iPod
music player. One of the main complaints from consumers about CDs protected with some form of
Digital Rights Management
(DRM) technology is that so far iPod owners have been left in the dark, whereas users with
MP3
players with
Windows Media
DRM
support could transfer music to the devices. The music labels blamed Apple for this problem and in some cases, even offered work-around instructions to unsatisfied consumers.
Now EMI's new copy protected CDs will use technology from
Macrovision
, and will at least be compatible with iPods.
"Apple is nearly finished with the technical work necessary to enable consumers to transfer music from content-protected discs to their iPods,"
the label said in a statement.
"This is an important step for EMI and Apple, but even more so for music consumers who will soon be able to legitimately port music from protected discs they own to the iPod."
Apple however, wasn't pleased with how EMI's statement details how these copy protected CDs will be iPod-compatible.
"The information EMI provided regarding iTunes and iPod compatibility with Macrovision's technology is not true and we have no idea why EMI made this statement,"
the company said in a statement. If this is true though, it is a step forward for supported of copy protected CDs who have taken much criticism due to the lack of iPod compatibility so far. Of course,
Sony BMG
has blackened the name of
"DRM"
after deciding to use
XCP
, a DRM technology developed by UK-based
First4Internet
.
The rootkit-like installation and file cloaking techniques it used were frowned upon by many experts and anti-virus firms and it ultimately made Windows installations much less secure by allowing virus writers to hide files in the operating system easily. Sony BMG has since recalled 4.7 million CDs that contain XCP and has offered a swap deal to owners of the 2.1 million CDs already sold.
Source:
News.com