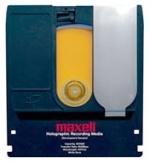 Maxell
, a storage subsdiary of
Hitachi
, announced on Monday that it will launch first line of holographic storage products in September, 2006. The holographic disc's physical will be the size of a normal CD and it will have storage space of 300GB when launched in September.
Holographic discs have been gaining some momentum lately, with an alliance of technology companies
announcing their plans in February this year
to develop a unified holographic format, dubbed as
HVD
. But despite plans, companies haven't so far announced any detailed plans to roll out the products using the technology, so Maxell's move might open the game for "next, next generation DVD replacements".
Holographic discs are different from DVDs, CDs and upcoming blue-laser products,
HD-DVD
and
Blu-Ray
, as the other formats only use the surface of the CD -sized disc, whereas holographic discs use the entire disc volume for storage. Data is stored on a holopgrahic disc by using light-sensitive crystals.
Maxell's announcement might spell trouble for HD-DVD and Blu-Ray formats that can store 15GB and 27GB
(respectively)
per data layer to a disc. If the format gains popularity as a storage space, it might put off people from buying the "next generation" technology and instead, wait for holographic discs to gain momentum in terms of studios and other manufacturers supporting it.
Maxell has formed an alliance with American
InPhase Technologies
to sell the product and currently a device capable of reading the discs will cost $15,000
(€12,700)
. But the discs themselves, despite being just pre-marketed to companies needing large amounts of storage space, are relatively cheap, costing $120
(€102)
each.
Source: Red Herring (thanks p4_tt..)