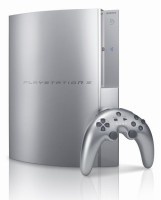 Sony Corp.
has become the latest console maker to announce that the
PlayStation 3 (PS3)
console will have parental controls to help stop minors from playing violent video games.
Microsoft
's
Xbox 360
also has parental controls and
Nintendo
also revealed similar plans for its upcoming
Revolution
console, which will be released in 2006. The
Entertainment Software Association (ESA)
has praised the console makers for including this feature.
Parents can restrict certain games from being played by their kids on the Xbox 360 according to the ratings (T for Teen, M for Mature, for example). Parents also have control over access to live online gaming. The games industry has come under severe criticism in the past few years due to the violent content of some of the biggest selling video games of all time, and how easy it is for minors to purchase or rent these games.
The ESA hopes that these new parental controls will stop legislation that would instead limit how video games are sold.
"With the average age of game players now 30, our industry naturally creates content appropriate for a wide range of audiences, just as there are TV shows, films, music and books for people of all tastes, interests and values,"
said
Doug Lowenstein
, president of the ESA.
"In a culture where raising kids is a challenge, video game parental control technology gives power to the parents."
Source:
CBC