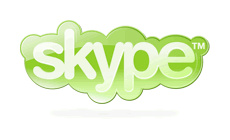 The fastest growing Internet Telephony Company,
Skype
, has added support for video calls in the latest version of the increasingly popular software. The beta version released today has included
"enhanced features that allow people to stay in touch and express themselves online."
Skype has approximately 70M users worldwide, all who can now possibly see the person that they are talking to aswell. The company wants to make this form of communication as easy as it can possibly be on the net.
"At Skype we want to make talking over the Internet the most natural, simple thing for people to do all over the world,"
said Skype chief exec
Niklas Zennström
.
"With the release of our new software, it's never been easier for people to talk to one another for free, and now they can see each other with video as well,"
Skype is teaming up with
Logitech
and
Creative
who make equipment (webcams, headphones etc.) that you can use with the new Skype service.
Here is the changelog...
feature: Skype video (webcam)

feature: contact grouping

feature: quickfilter in contact list and history (enable from Options->Advanced)

feature: new language - Portuguese (Portugal)

feature: new sound events for chat user join, leave and incoming message to existing chat

feature: chats and conference calls shown in history

feature: expandable "My Panel" (mood, events, services integrated)

feature: add contact directly from main window

feature: show file transfers in history

feature: quickfilter in history

feature: delete single or multiple history items

feature: compact chat participant list

feature: save user''s last auth request

feature: API commands GET/SET PCSPEAKER

feature: API commands BTN_RELEASED PAGEUP/PAGEDOWN

feature: API command SET VIDEO_IN

change: auth requests new design

change: changed group selection hotkeys to Ctrl-PgUp/PgDn

change: call tab visual layout changed

change: UI design elements changes

change: tray icon flag animation on missed events

change: tray icon connecting animation

change: changed "Free Internet Telephony" to "The whole world can talk for free" in file description

change: import contacts error dialog displayed when there is nowhere to import contacts from

change: file transfer in DND mode open file transfer dialog in minimized mode

change: new installer and uninstaller icons

change: history limited to 30 days for all events

change: new login animation

change: new layout for sound options

change: show my buddy count as an option in profile

change: new design for user creation

change: new design for log in

change: main/tools menu reshuffled

change: new sounds

change: display full name in profile

bugfix: drag and drop to chat - whole window should accept target

bugfix: accessibility: tab navigation on login dialog

bugfix: missing window title string for remove group dialog

bugfix: MSAA result codes on lists

bugfix: accessibility: can''t navigate to related tasks in options

bugfix: accessibility: advanced settings not accessible by tab

bugfix: accessibility: make ''Your e-mail will be kept private...'' link accessible

bugfix: 98/Me: some languages in EULA not shown

bugfix: doubleclick on tray icon brings main form to top correctly

bugfix: JPY sign not displayed in client

bugfix: import contacts search made faster

bugfix: Voicemail was not played if enter is pressed

bugfix: low credit notification improved

bugfix: voicemail menu item should be visible for non voicemail subscribers

bugfix: login - save button should be disabled, if one password is unfilled

bugfix: login - incorrect error message, if Skype Name starts with non-Latin letter

bugfix: Skype UI doesn''t follow Windows DPI changes

bugfix: accessibility: speed dial announcement not reported via MSAA

bugfix: contact list - delete does not work on multiselect

bugfix: API notifications missing

bugfix: add a contact and search are not changed maximize on dual-head

bugfix: My Profile - each month contains 30 days

bugfix: call forwarding and voicemail statuses in MSAA

bugfix: profile view: not been online for long time?

bugfix: chat participant list MSAA support

bugfix: multichat doesn''t update names when contacts change them

bugfix: invalid date in profile

bugfix: profile: Default day item in birthday dropdown

bugfix: hotkeys value not changeable back to ''blank''

bugfix: better usability of several forms with high dpi settings

new language files: Portuguese (Portugal) - Francisco Miguel Oliveira Ferreira, Arabic - (Maktoob.com Inc), Bulgarian - (Nikolay Filipov, Nikolina Filipova), Chinese Traditional - (Morden Chen/PChome Online), Chinese Simplified - (Leon Yang/TOM Online), Danish - (Eriksen Translations Inc), Dutch - (Kees Koenders), Czech - (Petr Silon), Estonian - (Eve Loopere), Finnish - (Heino Keränen), French - (Fabrice Imperial), German - (Claudius Henrichs & Dick Schiferli), Greek - (Panagiotis Sidiropoulos/Magenta LTD), Hungarian - (Mark Bender), Italian - (Daniele Conte), Korean - (Eriksen Translations Inc), Norwegian - (Stig Auestad), Polish - (Karol Szastok), Swedish - (Anders Olsson)
You can download Skype from:
http://www.filepedia.com/network_software/messaging/skype.cfm
Source:
The Register