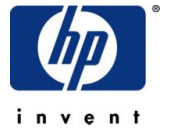 In a move following the company's 2005
decision to cease producing iPods
,
Hewlett-Packard
has now stopped distributing
Apple
's
iTunes
software with its PCs. Instead the company will now distribute
Real Network
's
Rhapsody
software. HP had been distributing iTunes with new PCs since 2004. The deal had been announced at the Consumer Electronics Show in Los Vegas. Now that HP is distributing Rhapsody instead of iTunes, customers will also receive a 30 free trial to Real's music subscription service.
iPods sold by HP accounted for about 5% of all iPod sales. The popularity of the iPod has lead to massive profits for Apple, but not a lot was gained for HP. The original deal with Apple was secured by the former HP chief executive,
Carly Fiorina
, who was ousted from the company in February 2005. It wasn't until July that HP ended the iPod deal with Apple under new chief
Mark Hurd
.
Source:
The Inquirer
Interested in iPods? Visit our
iPod discussion
forum.